Hayley Turner faces another wait before resuming riding
Last Updated: October 4, 2013 10:42am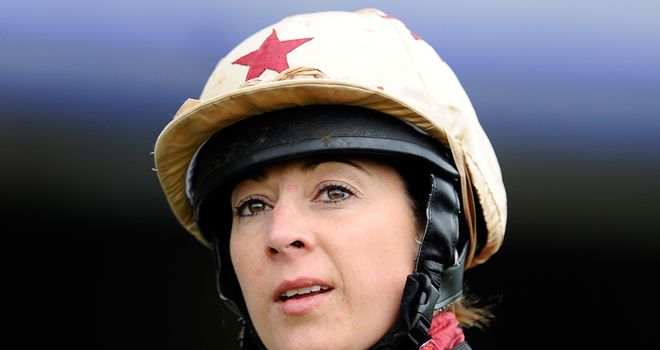 Hayley Turner: Sees specialist again in three weeks
Hayley Turner will see a specialist again in three weeks before finding out when she can resume race riding following her broken pelvis.
The rider was injured in a fall from Seal Of Approval in the Park Hill Stakes at Doncaster and while she hopes to be back for some of the big autumn meetings, the pelvic injury means she remains on the sidelines.
Writing in her exclusive blog at www.racinguk.com she said: "It looks like I could be out of action for a while longer. I saw my specialist earlier in the week and he confirmed what we already knew - in that my pelvis was broken - but also that it was a straightforward clean break.
"A break's a break at the end of the day so you can't mess around, especially as it's my pelvis, so it's a period of rehabilitation now for me. I've been told I can swim as long as it's not breaststroke, which is my preferred stroke, so I will have to consider doggy paddle instead!
"There are things I can do to help the recovery process, but above all it's a question of giving the break time to heal and knit together.
"I am seeing the specialist again in three weeks, but obviously the Flat season is nearly over then, so it has been a year to write off!
"I am not the only one in the wars with poor old Frankie Dettori breaking his ankle. I saw he was trying to convince himself it wasn't a break - but I am sure deep down he feared the worst. It's typical of a jockey though. You're the last one to accept the realities of injuries and I was the same in not believing I'd broken my ankle earlier this season.
"I see the course doctor said Frankie's injury was nothing more than soft tissue damage, and you wonder why the doctors aren't over-cautious rather than the other way around. It might help manage expectations more.
"It means Frankie misses the plum ride on Treve in the Arc - who looked to have a great chance, although my preference is for Novellist."