Hayley Turner is looking forward to making a quick return
Last Updated: September 23, 2013 12:39pm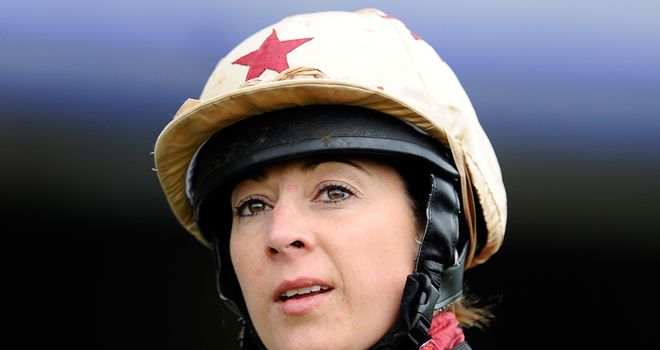 Hayley Turner: Hopes to be back in action in couple of weeks
Hayley Turner is looking to return to the saddle in two weeks as she recovers from her horror fall at Doncaster.
The jockey suffered concussion and rib and hip injuries when Seal Of Approval crashed to the turf in the Park Hill Stakes.
Writing in her exclusive blog on www.racinguk.com she revealed: "The prognosis is pretty good considering what happened. I've got bruised ribs and tore a muscle in my hip so there's no permanent damage. I will need physio on my hip and it needs to knit together but it all means I could be back in a couple of weeks.
"It might sound strange having had a heavy fall like that but I actually feel quite lucky. As a jockey you expect falls. I returned to the saddle five weeks after breaking my ankle earlier in the season and might only be out for three or so weeks this time, so I don't think I can really complain about my luck.
"My sister tweeted that I should get another job, but I can honestly say that giving up riding is absolutely the last thing on my mind. I can't wait to get back. Connie doesn't mean that anyway, as she knows she'd miss out on the trips and award nights and dinners which I invite her to!
"Most jockeys have a list of injuries and spend time on the sidelines - it's part of the job.
"I haven't watched a replay of the race and don't really feel the need to. It hasn't shaken me up mainly because I can't remember it, much like the fall which put me out of action with my head injury a few years ago.
"I obviously have a history of head injuries so I was fully scanned at Doncaster hospital and I was all clear, apart from the concussion, which was a big relief. One lesson that could be learned from it all is the flow of information from the hospital to my family.
"The hospital is obviously swamped with A & E cases, and they don't have time to keep families updated with progress reports. I think it is something the PJA might look into - so families and friends of jockeys can be kept up to speed with what's happening."