Showers set to reach Doncaster
Last Updated: 10/09/13 6:23pm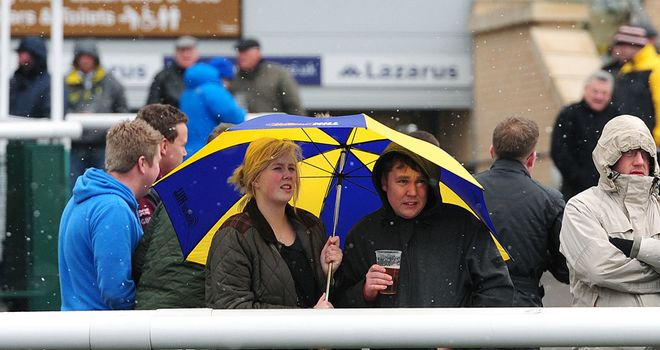 Early arrivals at Doncaster on Wednesday may need to bring a brolly
Clerk of the course Roderick Duncan is anticipating "substantial showers" at Doncaster ahead of the start of the four-day Ladbrokes St Leger meeting on Wednesday afternoon.
The official going at the Town Moor circuit remained good on Tuesday following a relatively dry day, but there could be an ease in conditions before racing gets under way, with rain forecast both overnight and, more significantly, around noon on Wednesday.
Speaking shortly before 5pm, Duncan said: "We're getting a few spots of rain as I speak, but the last time I checked it hadn't amounted to more than a millimetre and the ground remains good, maybe just on the easy side in one or two areas.
"There is a chance of a shower or two tonight, but we're not expecting a great amount of rain - it may be different tomorrow, however.
"The latest forecast I read suggests there could be rain coming in around midday and there could be some substantial, heavy showers. There's nothing we can do about that and we'll just have to see what materialises.
"The forecast for the rest of the week is actually looking a little better. The rain that was forecast on Thursday and Friday night is not as prevalent, but the forecast is changing all the time."