Time For Rupert successfully came through a life-saving operation
Last Updated: September 2, 2013 2:43pm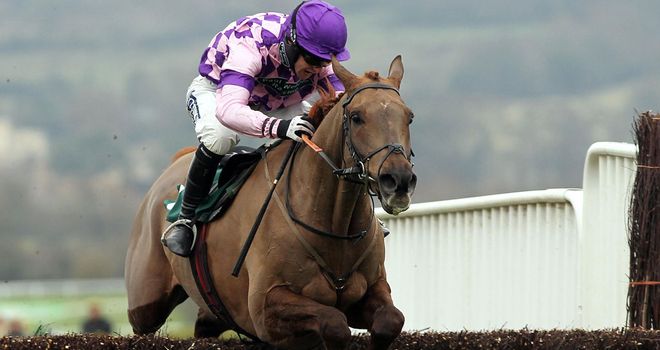 Time For Rupert: Grand National aim
Time For Rupert, one of the standard bearers of Paul Webber's Cropredy Lawn operation, is walking himself back to fitness after successfully coming through major surgery to remove a growth from his head.
The Flemensfirth gelding was found to have a growth "the size of a tennis ball" situated close to the brain that if undetected would probably have caused blindness to the nine-year-old.
Webber and owners the Littlecote Racing Partnership are grateful to vet Justin Perkins at the Royal Veterinary College at Potters Bar for carrying out what has been applauded as a life as well as career-saving operation on the chestnut, who could have the Crabbie's Grand National as his main objective this season.
Webber said: "A scan revealed a growth with tentacles like a squid. It was close to the horse's brain and starting to put pressure on it, while one tentacle was wrapped around the optic nerve.
"No-one knows how long it has been there and if indeed it affected his performances last season, but Justin Perkins carried out the risky operation, removing the lion's share of the growth, and Rupert rejoined us last Saturday.
"He's had eight days walking and we shall aim him towards the Long Walk Hurdle at Ascot, as there are few options for him over fences at this time of the season. He finds Wetherby a bit sharp."
Webber would like to protect his charge's mark (152) as best he can, as if the owners agree Time For Rupert will be aimed at the 2014 Grand National, a race both the trainer and jockey Denis O'Regan believe is tailor-made for him.
At his owners' day yesterday, Webber observed: "That is the race Denis has been dreaming of from the first day he sat on him. That plan will, however, be subject to approval from his six owners."