Hayley Turner returns from spell on sidelines on Sunday
Last Updated: August 30, 2013 1:09pm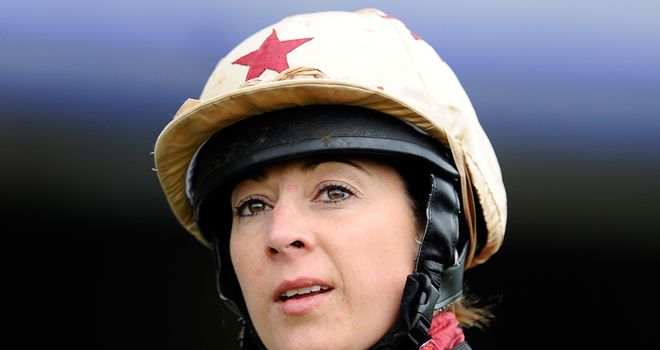 Hayley Turner: Back at Brighton on Sunday
Hayley Turner returns to the saddle at Brighton on Sunday following her spell on the sidelines with a broken ankle.
She partners Syrenka for Marcus Tregoning in the London Gatwick To Moscow Handicap and is thrilled to be back in action.
Writing in her exclusive column at www.racinguk.com she said: "I had my x-ray on Wednesday and my ankle has healed perfectly. I am absolutely delighted as it was exactly five weeks ago that I broke it. I was out for eight weeks last time I fractured the same ankle, so things have gone a lot more smoothly this time.
"I rode out two lots on Thursday morning at James Fanshawe's and felt as good as new and my fitness seemed fine too.
"I have to say the ankle hasn't given me any problems at all - and I haven't had one painkiller. That's not because I'm tough, believe me, I'd let people know if I was in any pain. I'm not one to bottle it all up and be brave!
"I think my swift recovery is down to a number of factors and people. My surgeon, Dr Andrew Robinson, has done a fantastic job, as has my physio Kevin Hunt and personal trainer Pat McAleese, and I feel indebted to those guys for getting me back so quickly.
"I have been doing lots of physio and training hard and doing everything I can to aid the recovery, which has got the blood pumping and would have helped the mending process.
"I am also very grateful to the BHA's Dr Turner and his team, especially Helen Pavitt, Senior Medical Administrator, who provided me with an Exogen Ultrasound bone-healing system which I used for 20 minutes every day.
"It helps knit the bone together and certainly did the trick. She also made sure I was cleared by Dr Michael Turner on Thursday, after my surgeon emailed him a report, so I'm good to go.
"I am not going to go after seven rides a day for the first few days back as I think I'll need to feel my way back just to make sure I am 100%. That said, I have no doubts I will be and I expect it to be business as usual next week."