On Demand nearing racecourse debut with stalls work, new shoes
Last Updated: 30/08/13 12:37pm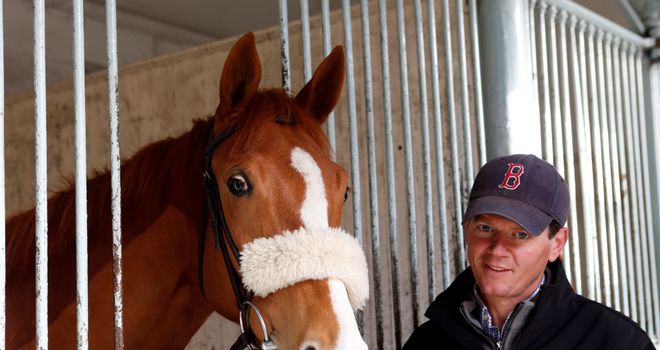 On Demand with Andrew Balding at Kingsclere
Andrew Balding has his fingers crossed ahead of On Demand's possible racecourse debut next week.
The Sky Sports News filly, out of top sire Teofilo, has been at Balding's Kingsclere yard for the last seven months, but was given time to grow before a first trip to the track was considered.
That debut is now expected to come in the 3:20 at Lingfield next Wednesday, the Celebrating 15 Years of Sky Sports News EBF Stallions Maiden Stakes, where On Demand is one of 35 entries.
Balding has been putting his filly through her paces at home, most recently giving her experience of the starting stalls process she will go through for the first time in her racing career proper next week.
He said: "You never quite know until they go through the experience on race day. You can simulate it as much as you can at home but it's nothing like the real thing and hopefully that won't be a hitch."
Balding also revealed the thinking behind the lightweight aluminium shoes she will be wearing at Lingfield.
He added: "They aren't as durable as the training plates so that's why we don't use them the whole time as they wear out too quickly and it becomes expensive.
"For raceday an ounce on the foot, they say, is the equivalent of a pound on her back, so the lighter the shoe you have on for race day the better.
"They say (putting the shoes on) is like having your nails trimmed or your hair cut. They are fairly oblivious to it."