Nina Carberry takes role with trainer Noel Meade
Last Updated: August 20, 2013 12:54pm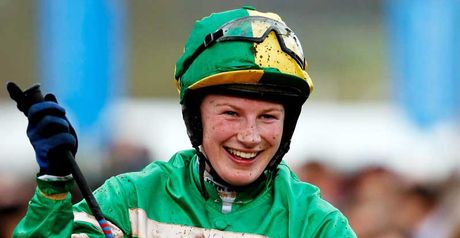 Nina Carberry: New role with Noel Meade
Noel Meade has described Nina Carberry as a "valuable cog in the wheel" after appointing her as his racing assistant.
Sister to Meade's long-time stable jockey Paul Carberry, Nina herself has been riding for the Tu Va handler as an amateur for over a decade.
She enjoyed the biggest victory of her career when partnering Organisedconfusion to glory in the 2011 Irish Grand National, trained by her uncle Arthur Moore, while she has also enjoyed multiple triumphs at the Cheltenham Festival.
Carberry took out a licence to train in her own right earlier in the year, but for the time being at least will focus on riding and her new role with Meade.
"Nina will become my racing assistant and I think she'll be a very good addition to what is already a very good team," said the trainer.
"There's my headman Paul Cullen and my assistant trainer Damien McGillick. We also have a couple of very good travelling head lasses and I think Nina will be another valuable cog in the wheel.
"She's been riding out for me three days a week for the last 10 years, so it's not as if we don't know her. She's always got on well with all the lads and her brother is our number one jockey, so it's a good fit.
"She's a likeable person and I think she'll be good at talking with owners and everything else.
"It will also be good for her to get a bit more of an idea of what's involved in the training side of things. It's a good move for everyone and I'm very much looking forward to it."