Gold Cup capacity cut
Cheltenham move to ease crowd comfort
Last Updated: 10/10/12 5:43pm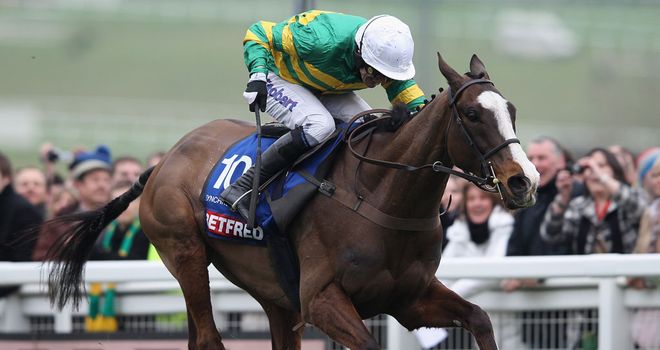 Synchronised: 70,000 people were at the track for this Gold Cup victory
The crowd capacity for Betfred Cheltenham Gold Cup day will be cut to 67,000 for next year's showpiece.
Officials at the track have decided to make the move in an attempt to increase comfort for spectators on the day.
Explaining the move Managing Director Edward Gillespie said: "Inevitably with Festivals, issues come out. One of them was the sheer number of people here on Gold Cup Day. If you recall, the weather was fine but it was still extremely difficult to get around, particularly at the back of the site.
"It was decided that the capacity for Gold Cup day would be further reviewed. This year we had 70,000 and it is amazing to think we had 73,000 here when Desert Orchid won in 1989 and that was before we built The Centaur and before we built The Best Mate Enclosure up to the level it is at now. It is extraordinary to think how busy it was that day (1989) and it poured with rain. Customer expectations and behaviour have changed since then.
"The capacity will be reduced for this season's Festival to 67,000 on Gold Cup Day, about a five per cent drop, and we feel that will make a significant difference to comfort.
"There was also a major traffic issue, particularly on the bus route from the station - the fact that it was sometimes taking an hour and a half to get people up to the course from the station. That whole issue has been dealt with and we are very sorry for the inconvenience caused."
---
Click here for a completely free £10 bet with Sky Bet
---