Racing pays tribute to Oaksey
TV colleagues lead tributes to remarkable figure
Last Updated: 05/09/12 1:17pm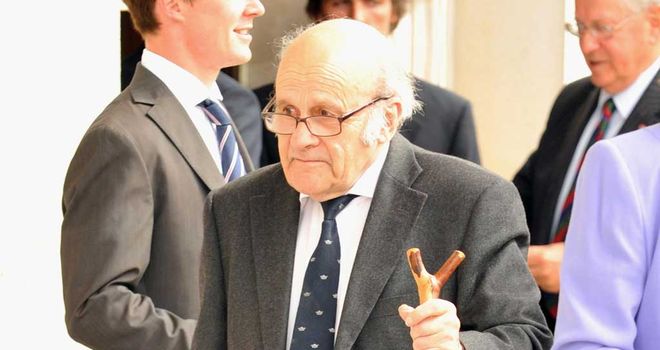 Lord Oaksey: Tributes flooded in to remarkable figure in the world of racing
Leading racing figures have been paying tribute to Lord Oaksey who died on Wednesday at the age of 83.
Retired trainer Jack Berry worked alongside Lord Oaksey in his role as vice president of the IJF.
"It's a very sad day. He was a star man in every respect," Berry told At The Races.
"He worked tirelessly for the IJF from its outset in 1964 when Paddy Farrell had his accident in a fall from Border Flight in the Grand National.
"At trustee meetings, he would stand his corner for the beneficiaries and would give 100%.
"I can't speak highly enough of him. My thoughts are to his wife Chicky and daughter Sara at this very moment."
The residential home of Oaksey House in Lambourn was built in his honour for the recuperation of injured jockeys, and a statue of him adorns the grounds.
Paul Struthers, Chief Executive of the Professional Jockeys Association, said: "This is a very sad day for the whole of horseracing. Lord Oaksey made such an enormous and varied contribution across so many spheres in our sport.
"It is now almost half a century since he set in motion the forerunner of the Injured Jockeys' Fund which has helped over 1,000 jockeys in need since its earliest days, and continues to aid and support jockeys both past and present. Those men and women have so much to thank Lord Oaksey for.
"Oaksey House stands as a monument to his achievements in racing and testament to all he has done for the welfare of jockeys. He will be remembered with great affection not only by those who were privileged to meet him but also by countless others who enjoyed his sharp intellect and warm approach as a writer and racing broadcaster. As the latter he was certainly key to sparking my initial passion for the sport.
"Our thoughts and prayers go out to his family and friends, particularly to his wife Chicky who has worked tirelessly on behalf of the IJF."
Mattie Batchelor
Jockey Mattie Batchelor partnered Carruthers to his emotional Hennessy victory and hailed Oaksey's "indescribable" achievements.
"I heard the news after riding out this morning and I rang Chicky straight away to send my condolences," he said.
"She said towards the end he was deteriorating, from being such a vibrant man to going that way.
"I think it is a release for everyone really - most of all John.
"When I first started riding for Sara and Mark (Bradstock), he was around the yard an awful lot and his knowledge of racing and just to listen to the stories of the old days when he used to ride was great.
"Towards the end, it was sad for me to see him like that from two or three years earlier, deteriorating like that. It's not a nice thing to see.
"When you used to go racing, you would sometimes see him on the stand with Chicky.
"You could walk past him and he wouldn't recognise you, but as soon you walked into the paddock and I had his colours on, he instantly knew.
"On the day of the Hennessy, Chicky said he was watching at home and for a couple days afterwards, it sort of gave him a boost so to speak and he almost sort of became compos mentis again.
"He was mentioning Carruthers and how he'd won the Hennessy and it was bringing back memories of when he won the Hennessy (as a jockey).
"He started the IJF in 1964 and to keep it going for so long is just fantastic for racing and what he has done is indescribable.
"Carruthers was his baby, really.
"Obviously there have been more offspring (from the mare) but John didn't really register them as much as he did with Carruthers.
"Out of the lot, Carruthers has done the most for him and to see Carruthers win the Hennessy, that would have been the icing on the cake for him.
"Every time he did go racing and see his colours running it gave him that little bit of perk."
Brough Scott
Journalist Brough Scott worked with Oaksey for many years on television and is chairman of trustees for the Injured Jockeys Fund.
He tweeted: "Sad, bad, but 'blessed release' news on John. He was my and our greatest friend, a high achiever who thought of others. May he inspire."
Channel 4 Racing and At The Races pundit John McCririck was a colleague of Lord Oaksey, and used to refer to him as "My Noble Lord".
"The Noble Lord was the last of the gifted English Corinthians," he said.
"In the top rank of amateur National Hunt riders, he became an evocative wordsmith and a genuinely kind, decent, human being.
"John had a love, enthusiasm and understanding of racing that was inspirational. His passing deprives us of a man who gave so much and nurtured the best in mankind while ignoring the worst.
"Whether having the privilege of working with him, knowing him, or even never having any direct contact, we all, in different ways, have lost a dear friend who can never be replaced."
David Pipe
Trainer David Pipe was among the first to tweet his tribute to Oaksey. He said: "So sorry to hear of the passing of Lord Oaksey who did so much for our sport.
"Our thoughts are with his family at this very sad time."
Jockey Tom Malone said: "Very sad new about Lord Oaksey but he did some amazing things that will help people for ever more. Thank u."
Former weighing room colleague and now assistant trainer Carl Llewellyn said: "Sorry to hear Lord Oaksey has passed away. He was a true gentleman and did a amazing job for the injured jockeys fund. RIP."
Perennial National Hunt champion jockey Tony McCoy is a vice patron of IJF and he tweeted: "Very sad to hear that Lord John Oaksey former jockey and founder of the Injured Jockeys Fund has died. A truly great gentleman. RIP."
Fellow rider Andrew Thornton is one of the many jockeys to have benefited from help and support from the IJF.
Thornton said: "He really has left a legacy. What he and Chicky did with the IJF was just fantastic, for people in and out of racing.
"The IJF is invaluable and jockeys, north, south, east and west, come to Oaksey House to use the facilities, as I have done myself.
"What he did in the saddle was brilliant, but he will possibly be remembered more for what he did out of the saddle.
"He was a very selfless man and he and Chicky made a great partnership. My condolences are with Chicky and their family at this time."