Curragh mull evening Oaks switch
Oaks could follow Derby switch
Last Updated: August 1, 2012 12:07pm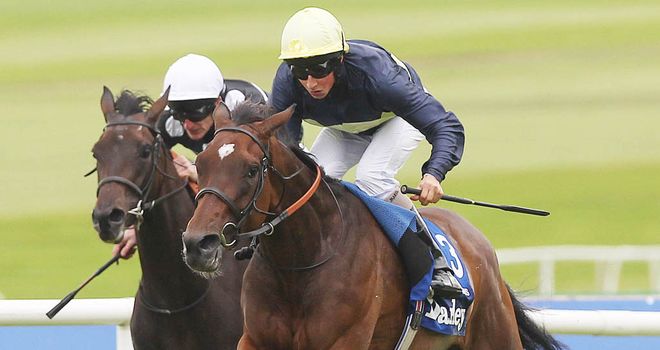 Great Heavens: Won the Irish Oaks in the afternoon in 2012
A decision has still to made on whether the Darley Irish Oaks will follow in the footsteps of the Dubai Duty Free Irish Derby and take place on a Saturday evening in 2013.
The fixture list for next season has been announced with the number of meetings staying at 349, with Dundalk retaining their 14 fixtures.
The Irish Derby was run on a Saturday evening for the first time this season and was a qualified success, which has prompted officials to consider the same switch for the Oaks.
Curragh's general manager Paul Hensey said: "It is something we are considering.
"The Derby was a success this year so it is a change we are discussing with the sponsors. However, there are other considerations such as clashes with other events and the TV scheduling and times etc.
"We'll work our way through those and come to a conclusion.
"The TV audience for the Derby was up 300% this year and given the poor weather, the fact the attendance was up 500 was a major plus, too."
Another point to note is that the Hennessy fixture at Leopardstown has been switched from its traditional Sunday slot to Saturday (February 9) to avoid a clash with the Ireland versus England rugby international.
The Irish National (March 31 - April 2) and Punchestown Festival (April 23-27) fall in their ideal calendar locations.
Brian Kavanagh, chief executive of Horse Racing Ireland, said: "HRI is pleased that it has been able to retain the same overall number of fixtures in 2013.
"We are committed to providing sufficient races for the horse population with appropriate levels of prize money, whilst also allowing racecourses and the off-course betting industry to maximise their commercial opportunities.
"The introduction of year-round racing at Dundalk was very well received in 2012 and Friday evenings will continue to be scheduled throughout the winter months next year.
"The move of the Dubai Duty Free Irish Derby to a late afternoon Saturday card was also a successful initiative in 2012, attracting a larger crowd to the Curragh and a vastly increased television viewing audience.
"This will be repeated again next year and a Saturday evening meeting is also under consideration by the Curragh for the Darley Irish Oaks."