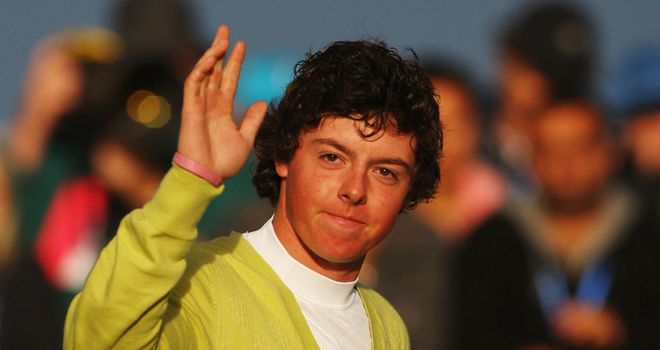 Rory McIlroy at Carnoustie in 2007
#ilovemajors wrote Rory McIlroy at the end of a tweet at Congressional.
Hardly a surprise given the way he had destroyed his US Open rivals and ran out a sensational eight-shot winner.
Except the 22-year-old had posted the tweet before the tournament started.
The significance of the timing shouldn't be underestimated.
After his meltdown at The Masters in April, McIlroy would have been forgiven for keeping a low profile going into the next major.
And yet there he was telling the world that far from shying away from the task in hand - trying to win his first major - he was embracing it. McIlroy wasn't focusing on one bad round, he was recalling the memories of his brilliance over the first three days at Augusta, his stunning opening round 63 in last year's Open at St Andrews and his title challenge at the following month's PGA Championship at Whistling Straits.
My first experience of Rory had come at Carnoustie in 2007 when he qualified for his first Open as an 18-year-old.
I recall being an instant fan but sometimes you backfit opinions formed later so I googled the blog I had written when attending that Open with colleagues Matt Cooper and Harry Emanuel to make sure I hadn't made a massive misjudgement and dismissed him as a flash in the pan.
Here are the Rory mentions from the opening day....
1810: Matt and Harry have been following young Irish amateur Rory McIlroy and both were hugely impressed. There's a big crowd over from the Emerald Isle who were telling everyone in the pubs of Carnoustie this week that the 18-year-old would take the Open by storm. And how they're right. He's currently three under which puts him tied third and the 5/1 they secured about him making the cut is looking a cracking bet.
1925: Irish amateur sensation Rory McIlroy plays a good game having shot a superb bogey-free 68 - and he talks a good one too. The 18-year-old from Northern Ireland admits he's grown up around the media but also has a natural easy charm which makes him an excellent interviewee. Yes, he fidgets a bit in his press interview and is a little cheeky at times but he is a teenager don't forget. Tiger Woods is his hero and he seems rather gobsmacked when informed he's shot better than the world number one today. McIlroy has been a member of his golf course since the age of 7 and can clearly remember when Justin Rose finished fourth as an amateur in the 1998 Open. Could he better Rose's fourth place finish from Birkdale? It's asking a lot but he certainly looks a superstar in the making.
Turnberry's 2009 blog also had a revealing entry.
1848: Just been checking through some of the player transcripts and thought this was an interesting exchange with Rory McIlroy - especially if you backed him this week.
Q: Has the pressure of being second favourite played any part (in you not challenging this week, he's currently +7).
McIlroy: "No because the favourite (Tiger) missed the cut, so I've done better than him (laughter). I knew coming in here that there are a lot of guys who have a better chance of winning this tournament than me. I still feel it's too early for me to win a major. I've still got a lot of improving to do. Maybe in a couple of years."
Not a bad guess eh!
Smart
Rory is smart, personable and, of course massively talented.
Many press conferences at majors are mind-numbingly banal but I've always made a beeline for the interview room whenever Rory has been called in.
One of the most memorable came after his opening 63 at St Andrews last year. It demonstrated his sense of history, an ability to provide interesting and revealing answers and a hugely impressive memory that would make him a No.1 pick for a pub quiz team.
For starters, he knew fine well he just missed out on a record. "It sort of went through my mind that 62 would have been the lowest round in a major. That's probably why I missed the putt (on 17)."
He also revealed his fearless attitude towards shooting low scores - supporting the idea that McIlroy is best when he attacks rather than defends:
"I mean, all you're thinking is just trying to go 6-under, 7-under," he said. "You're just trying to go lower and lower, no sort of negative thoughts come into your head at all. That's the only way I can describe it, just trying to make birdies."
And there were adept displays of memory.
Asked what the most enjoyable shot of his round was, he replied: "Probably the 6-iron to 17. I had a very similar shot in 2007, same club. Pin was sort of tucked more around the bunker, but I hit a 6-iron there to three feet and made that putt that day."
When asked when he first played St Andrews, Rory gave not just the year but the month - "June 2007".
He also recalled the event, the venue (now that's definite bonus points) and the final hole lip out when Tiger Woods almost carded a 62 in the 2007 USPGA in Tulsa.
But best of all was his ability to reel off every round he'd ever played at the Old Course.
After a few seconds delay, he put his hands on the side of his face for added concentration and ticked them off - "69, 69, 67, 68, 67, 68, 65, 69, 63."
In fact, the question just asked him to name his previous eight rounds so it was amusing and insightful that Rory had already updated his own list by adding that day's 63.
Special
I guess that's why he's special though. He's one step ahead.
Having posted his first major victory, aged 22, the world really is at his feet.
Forget the lack of wins in regular Tour events. It seems McIlroy is at his best on the ultimate stage and having won his first major in such emphatic style it's no wonder the bookmakers are running scared.
Just four years after being quoted at 5/1 to make the Open cut, he's now the same price to win the tournament itself at Sandwich next month. No wonder Rory is being hailed as the new Tiger Woods.