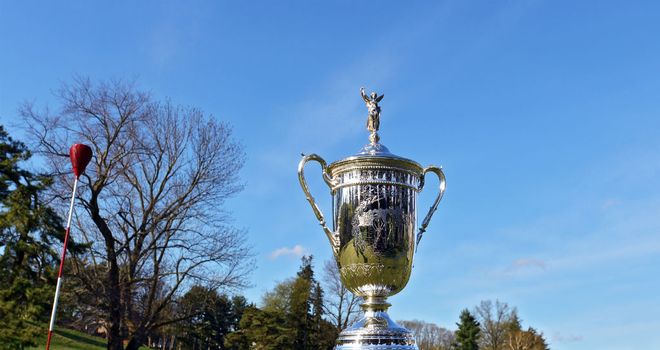 The second major of the golf season is upon us and Sky Sports will bring you the best live coverage of the 2013 US Open.
Join us Wednesday at 7.00pm on Sky Sports 1 HD for our preview show - 'The Story of Merion' - then tune in for the action from the East Course from Thursday through to Sunday.
Our 10 hours of first-day coverage gets under way at 2pm on Thursday on Sky Sports 2 HD and if you miss any of the action, you can catch up with our round-up show at 3am on Friday morning or watch highlights at 9am - again on Sky Sports 2 HD.
The live show returns at 2pm on Friday and brings you comprehensive action, analysis and debate through the weekend.
However, we'll also have live action on the red button from 12pm, giving you the chance to follow the group of Phil Mickelson, Steve Stricker and Keegan Bradley on Thursday and Tiger Woods, Rory McIlroy and Adam Scott on Friday.
If you can't get in front of your TV then you can watch the action on the move on your laptop or mobile device with Sky Go. Find out all the ways to watch Sky Sports
And don't worry if you are not a Sky subscriber because you can get involved through Now TV. Get a Sky Sports Day Pass
Don't forget - we'll also bring you comprehensive highlights each morning on
Sky Sports
television, on
Sky Go
and here on
skysports.com
.
The US Open on Sky Sports
Date
Tournament
Channel & Time
Thursday June 13
U.S. Open - Day One LIVE

(Red button from 12pm)



2.00pm
Friday June 14
U.S. Open - Day One Round-up

3.00am
Friday June 14
U.S. Open - Day One Highlights

9.00am
Friday June 14
U.S. Open - Day Two LIVE

(Red button from 12pm)



2.00pm
Friday June 14
U.S. Open - Day Two LIVE

7.00pm
Saturday June 15
U.S. Open - Day Two Round-up

3.00am
Saturday June 15
U.S. Open - Day Two Highlights

8.00am
Saturday June 15
U.S. Open - Day Two Highlights

1.00pm
Saturday June 15
U.S. Open - Day Three LIVE

5.00pm
Saturday June 15
U.S. Open - Day Three LIVE

6.30pm
Sunday June 16
U.S. Open - Day Three Round-up

3.00am
Sunday June 16
U.S. Open - Day Three Highlights

7.00am
Sunday June 16
U.S. Open - Day Three Highlights

11.00am
Sunday June 16
U.S. Open - Day Three Highlights

2.00pm
Sunday June 16
U.S. Open - Day Four LIVE

5.00pm
Sunday June 16
U.S. Open - Day Four LIVE

6.30pm
Monday June 17
U.S. Open - Day Four Round-up

3.00am
Monday June 17
U.S. Open - Day Four Highlights

9.30am
Monday June 17
U.S. Open - Day Four Highlights

1.00pm
Monday June 17
U.S. Open - Day Four Highlights

5.00pm
Monday June 17
U.S. Open - Day Four Highlights

10.00pm
Tuesday June 18
U.S. Open - Day Four Highlights

8.00am