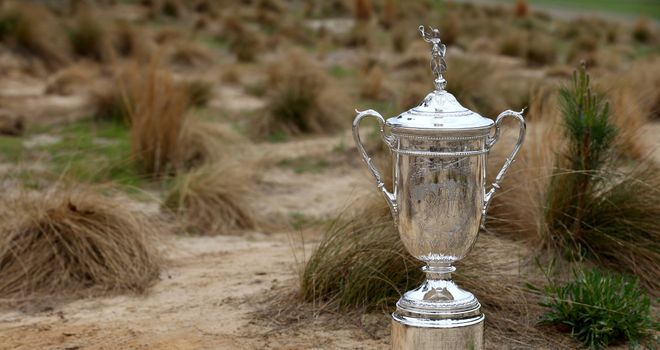 The US Open trophy on a preview day at Pinehurst No.2
The second major of the golf season is upon us and Sky Sports will bring you the best live coverage of the 2014 US Open.
Sky Sports 4 is the home for all the action and we'll whet the appetite on the morning of the tournament by showing the official films from the last six US Opens. The first, 2008, starts at 8am and they'll play out every hour, finishing with last year's event at 1pm.
Our 10 hours of first-day coverage gets under way at 2pm on Thursday and if you miss any of the action, you can watch two-hour highlights on Friday at 7am and again at midday.
The live show returns at 2pm on Friday and brings you comprehensive action, analysis and debate throughout the day.
Our live weekend coverage starts at 5pm on both Saturday and Sunday and we'll also have four two-hour highlight shows on Monday.
If you can't get in front of your TV then you can watch the action on the move on your laptop or mobile device with Sky Go. Find out all the ways to watch Sky Sports
And don't worry if you are not a Sky subscriber because you can get involved through Now TV. Get a Sky Sports Day Pass
Don't forget - we'll also bring you comprehensive highlights each morning on Sky Sports television, on Sky Go and here on skysports.com.
All on Sky Sports 4
Thursday 12th
08.00 US Open Official Film: 2008
09.00 US Open Official Film: 2009
10.00 US Open Official Film: 2010
11.00 US Open Official Film: 2011
12.00 US Open Official Film: 2012
13.00 US Open Official Film: 2013
13.00 Red button: through to 00.00
14.00 Live US Open Golf off air 00.00
Friday 13th
07.00 US Open Golf Highlights (2hrs)
12.00 US Open Golf Highlights (2hrs)
13.00 Red button: through to 00.00
14.00 Live US Open Golf off air 00.00
Saturday 14th
07.00 US Open Golf Highlights (2hrs)
10.00 US Open Golf Highlights (2hrs)
13.00 US Open Golf Highlights (2hrs)
17.00 Live US Open Golf off air 00.30
Sunday 15th
06.00 US Open Golf Highlights (2hrs)
10.00 US Open Golf Highlights (2hrs)
13.00 US Open Golf Highlights (2hrs)
17.00 Live US Open Golf off air 00.30
Monday 16th
07.00 US Open Golf Highlights (2hrs)
12.00 US Open Golf Highlights (2hrs)
17.00 US Open Golf Highlights (2hrs)
20.00 US Open Golf Highlights (2hrs)