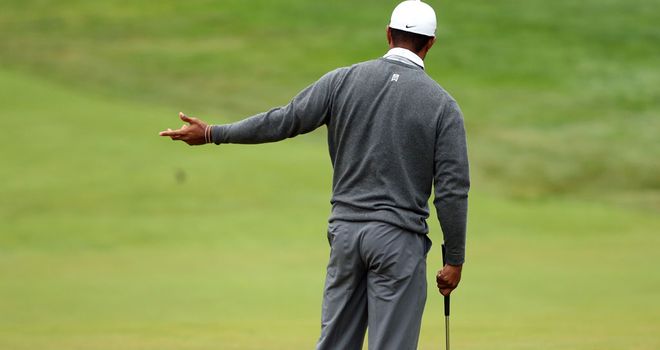 Tiger Woods bogeys the 12th hole on his return to Merion on Friday morning
Tiger Woods endured a mediocre end to his first round at the US Open on Friday, when he returned to Merion to play the final seven and a bit holes, and eventually card a three-over-par 73.
The world No 1 was unable to complete his opening round on Thursday after poor weather meant the suspension of play for more than four hours.
Woods had left the course at the end of the first day with his ball close to the hole on the 11th green.
He returned on Friday to make par at 11 but then, over the remaining seven holes, offset a birdie at 13 with a brace of bogeys.
But there was some good news for Woods, as it appeared that his sore wrist which troubled him on Thursday had improved and should not be a problem over the remainder of the tournament.
On Thursday, Woods would often wince when playing out of the rough but there was no obvious sign of discomfort on Friday - even when he failed to find the fairway at the par-four 12th and was forced to play from long grass.
From there he went on to miss a downhill putt of five-feet for a bogey and dropped another shot at the par-three 17th where his tee-shot landed near the edge of a steep bunker.