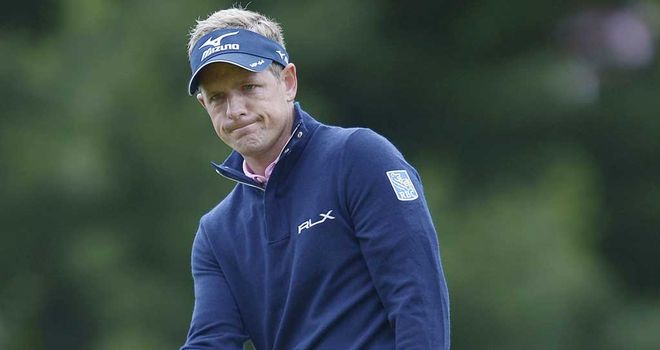 Luke Donald: Englishman rues poor finish at Merion
Luke Donald was left to rue a poor finish after the delayed first round of the 113th US Open resumed on a cold, overcast morning at Merion.
The Englishman had birdied the 11th, 12th and 13th before play was suspended for the day due to darkness on Thursday evening after two delays for bad weather.
That gave Donald one-shot lead over American Phil Mickelson, who had completed a three-under-par 67 to set the clubhouse target, with Belgium's Nicolas Colsaerts (69) the only other player to complete a sub-par round.
Play resumed at 7:13am on Friday morning and Donald parred the difficult 14th and 15th holes to remain on four under.
But the 35-year-old world No 6 then three-putted the 16th and 18th - he also badly misread a birdie putt on the 17th - to card a two-under par 68 before a quick turnaround ahead of the second round.
"There was a complete switch in wind and obviously a big drop in temperature (from yesterday)," Donald said.
"It meant 14 and 15 are playing long but it sort of made 16 and 18 easier and that's why it's a little disappointing to come off those two holes making bogey, despite hitting the greens.
Quick turnaround
"I'll grab something quick to eat, hit a few balls and get out there. I think it's good to have a quick turnaround, I'll still be warm."
Only five players were under par when the first round was eventually completed, Mickelson leading by one from Donald and Australian Mathew Goggin with Colsaerts and Florida-based Scot Russell Knox a shot further back.
Knox, who attended Jacksonville University and sealed his place at Merion through sectional qualifying, said: "I'm thrilled. I didn't really know what to expect in my first major, but I knew I was capable of having a nice round and made some nice putts and hung in there. It's hard though.
"It's tough, but I'm definitely not in a position to complain. My first major, I'm just thrilled to be here and so you won't hear any complaining out of me."
The second round was already under way and Donald holed from 20ft for birdie on the 12th and chipped in from behind the 13th green for another to take the outright lead on four under, with Mickelson not due out until 3:41pm local time.