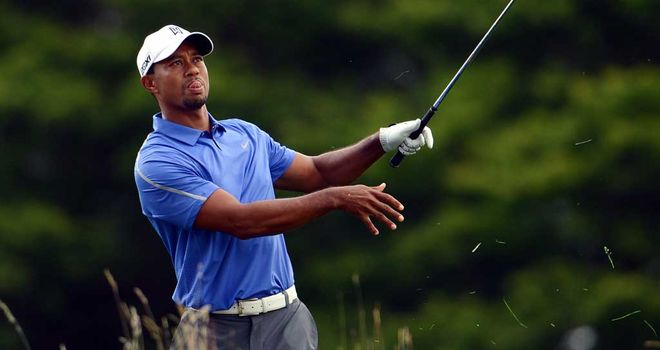 Tiger Woods: Appears to have picked up a wrist injury
Sky Sports expert Butch Harmon believes Tiger Woods' deep desire to become a major champion once again was the main reason for his faltering start to the US Open.
Woods has not won a major since his triumph in the US Open at Torrey Pines in 2008 and his hopes of ending that drought were almost washed away on the opening day of this year's event.
The 37-year-old struggled under stormy skies at Merion as he slumped to two over par after 10 holes, six behind leader Luke Donald, who had completed 13 holes before fading light ended the action.
And Harmon, Woods' former coach, believes the world No 1 was trying too hard, and putting too poorly, in his pursuit of a 15th major title.
Harmon told Sky Sports: "He is trying to push too hard. He has not won one since Torrey Pines in '08, we all know that.
"He has won four times this year so we know he knows how to win again. I think he is trying to push too hard and I also think - we saw it today - his putting is not as consistent in the majors as it is in normal PGA Tour tournaments and I think that has been the problem."
Injury
Fellow pundit Colin Montgomerie questioned whether Woods was fully fit after appearing to injure his left wrist mid-round.
The one time Ryder Cup captain said: "Sometimes with Tiger it is 'woe is me' a little bit but at the same time you think, 'is there something wrong? Is a finely tuned athlete like that ready just to snap?'"
"There is something wrong with his wrist - there is no question. Even his chip shot at 11, it was only 70 yards, but the left hand went behind his back and there is a worry about his fitness."
Leader
Only around half the field finished their rounds as torrential thunderstorms forced a three-and-a-half hour delay less than two hours after the start.
Phil Mickelson impressed early on with a three-under 67 while Master champion Adam Scott was also on three under after 11 holes. But it was Englishman Donald who was on top of the leaderboard overnight.
The former world number one is currently one clear of the field and Harmon reckons conditions will although for lower scoring on Friday: "There were some great changes, Luke Donald especially. He came on strong. He was four under par and the first player to get to minus four for the day.
"Adam Scott played in the premiere group - he is three under, one behind Luke. If the rain gets out of here and they get out early in the morning, and it will be early, the course will be in much better condition than they found it this afternoon."