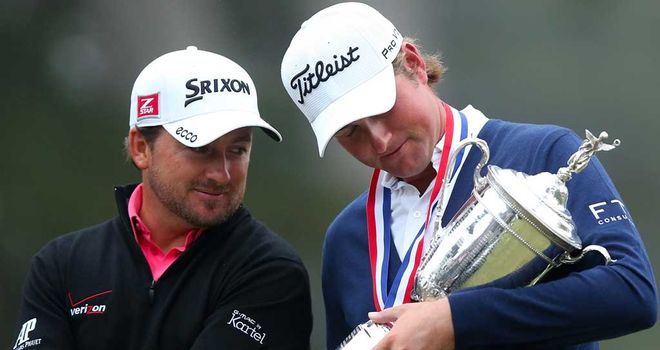 Graeme McDowell: Looks on at Simpson's trophy
Graeme McDowell insists he is taking the positives from coming so close to a second US Open, saying it has given him new belief that he can be a multiple major winner.
The 2010 winner at Pebble Beach almost made it a second title in three years when he rolled his 20-foot birdie putt on the 18th just wide of the hole.
That putt would have put him in a play7-off with champion Webb Simpson but McDowell, despite losing the overnight lead, insists he has plenty of positives to take from the week in San Francisco.
"This has reinforced to me that I can compete and win more major championships," said McDowell.
"It was just great to try my best and compete. The tougher the golf course the better for me and I'm happy with my execution in general.
Irish return
McDowell will still receive a hero's welcome when he returns to Royal Portrush for next week's Irish Open, but he is left thinking of what it would have been like if he had sank that putt.
The 32-year-old would be back on home turf parading the trophy for the second time, whilst also extending Northern Ireland's domination of the trophy to three years.
Strangely, it was McDowell's strength that turned out to be his undoing on the final day at Olympic Club, as the PGA Tour leader in fairways hit this season with an average of almost 71% his just three out of 14.
"It's not like I drove the ball awful," he said. "I just seemed to hit it in the semi-rough all day long.
"This is sort of a new experience for me, I suppose, finishing second at a major. I would rather have tried and failed than have never tried at all.
"I really didn't have much of an A-game this week, but I'm not sure you can on this course because it beats you up.
"The fairways are very elusive, the greens are rock hard and it's the toughest test. To compete as well as I did with my B-plus game I'm very proud of myself."
Harrington belief
Dubliner Padraig Harrington will take a lot from the week as well after finishing in a tie for fourth - and that after a bogey on the last.
Much has been made about Harrington's fall down the rankings from third three years ago, but he was also eighth in The Masters in April and he is now back up to 75th from 94th.
"It's nice to feel comfortable in those sort of situations," said the three-major winner. "I never found the course difficult all week.
"It was a joy to play - testing, but very fair."
Harrington, who finished two behind champion Webb Simpson, was left to reflect on four-putting twice in his opening 74.
"It wasn't my ability to play golf this week that was costing me, it's a couple of decisions here and there, so it's kind of nice to think you have the ability to win it."