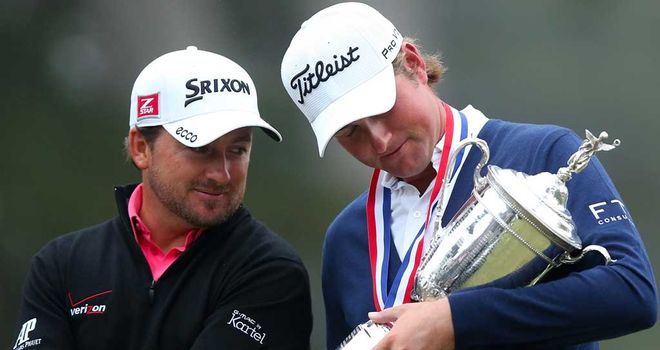 Webb Simpson: Admitted he had been nervous all day
Webb Simpson admitted winning his first major title will take "some time" to sink in after back-to-back 68s at the weekend landed a one-shot win at the US Open.
The American, playing in only his fifth major, looked out of the running when he bogeyed two of the first five holes in the final round, but he bounced back with four birdies over the next five.
Simpson then parred in, saving par with a superb up-and-down from thick rough at 18, and looked on as overnight leaders Graeme McDowell and Jim Furyk failed to match his one over total.
"I think every day my game got a little better," said Simpson, the ninth consecutive first-time major champion.
Excited
"The first few days I putted well and hung in there, and I hit it really well on Saturday and that made me get excited for today.
"This is only my second US Open and so I told myself not to get too excited, don't try to win. I had to go out there and try to make pars, and that's what I did. And luckily I made some putts and got a couple under out of it.
"I was so nervous all day, but especially there at the end. Even when I was done I was nervous.
"I believed in myself I could win a major, but maybe not so soon. And I just gained all the respect for the guys who have won multiple majors, because it's so hard to do.
"It hasn't sunk in at all. I'm sure we'll celebrate on the plane back. When Graeme missed on 18 and I realised I had won, I just kind of shook my head in disbelief. I couldn't believe it happened."