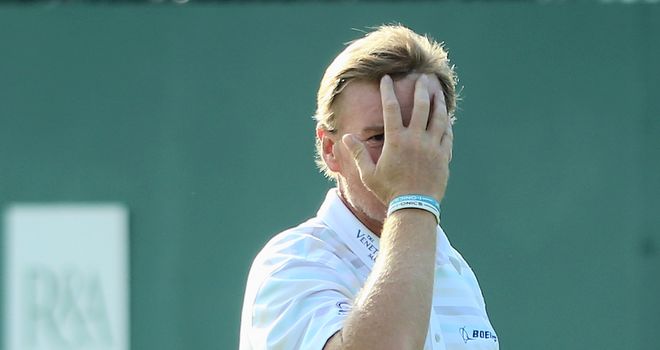 Ernie Els: Left rattled
South African Ernie Els admits he was badly affected after his opening drive at the Open Championship hit an elderly spectator in the face.
The double Open champion pulled his tee shot and it caught a fan full on the jaw, causing it to bleed significantly.
Els went on to card a treble-bogey seven and blamed his three-putt from 18 inches on a lack of focus after the incident.
It did not get much better for the 44-year-old, who went on to finish seven over par after a front nine of 42, with even his drive at the last disrupted by a frog hopping across the tee box.
"I was thinking about him. There's blood all over and I was quite rattled."
Ernie Els on the effect the incident had on his round
"There's a bunker on the left and on the practice rounds I was looking to maybe missing it left and that is obviously what I did," said Els.
"It's obviously a dangerous shot and I hit the guy, who was probably in his 60s, right in the face and there was blood everywhere.
"I felt pretty bad about it. I probably should have told the starter to move the people left on the left side, but I didn't do that.
"I really felt bad hitting it there into the people and hurting the guy the way I did.
"It was right in the face and you think the worst. It was like a bullet coming at him so he must have been in total shock.
"Hopefully he's better now, but it wasn't very nice."
Quite rattled
On the three-putt and the subsequent effect it had on his round, Els added: "I was thinking about him. There's blood all over and I was quite rattled.
"I was kind of finished and then started missing short putts. It was a nightmare so I'd like to put it behind me.
"I just hope the gentleman feels better because he looked really bad when I left him there.
"Obviously I've hit before spectators, but maybe in the leg or the back.
Win a trip to The Ryder Cup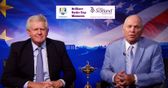 Vote for your favourite moment and you could win the trip of a lifetime for you and three friends to The 2014 Ryder Cup
Click here for further details
"I remember my buddy Frank Nobilo getting hit in the head and basically ended his golf career."
The South African's playing partners Phil Mickelson, the defending champion, and Bubba Watson, fared little better with rounds of 74 and 76 respectively.
"I think I put the jinx on it," said Els.
Watson had some sympathy for his opponent after seeing he was clearly rattled by the incident.
He said: "You could tell Ernie was shaken up by it. When you hit somebody like that it's not a good scene and it's very heartbreaking.
"You could tell he felt it - I'm not saying that's why he struggled on that hole but I'm pretty sure that's what it was."
Open officials later said the man had not been seriously injured.