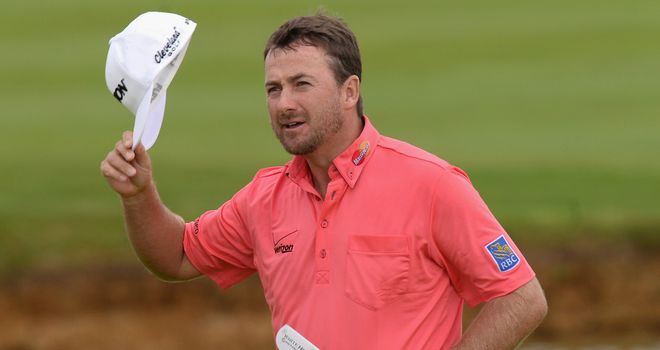 Graeme McDowell: In good form after victory at French Open earlier this month
Northern Ireland's Graeme McDowell says he is desperate to prove he is not a "one-hit wonder" as a major winner, and would "give his left arm" to add to his US Open title at Hoylake this week.
The 34-year-old's best finish at the Open is a share of fifth place in 2012, while he led the tournament after one round the last time it was held at Hoylake in 2006 before fading over the final three days.
McDowell, who won the US Open at Pebble Beach in 2010, will tee off on Thursday in confident mood after successfully defending his French Open title two weeks ago.
"I'd give my left arm for the Claret Jug. I would, actually. That would be the end of my career, but it would be a nice way to go," joked McDowell.
"I feel like I'm ready to kick on to the next chapter in my career now and compete and win more major championships.
"I certainly don't want to be a one-hit wonder and I've learned a lot over the last few years since my US Open victory.
"I'd give my left arm for the Claret Jug. I would, actually. That would be the end of my career, but it would be a nice way to go."
Graeme McDowell
"Winning regular tournaments is hard enough, winning the majors is something different, something special.
"I'd love a Claret Jug. Probably that and the green jacket (given to Masters champions) are probably neck and neck, but the Claret Jug is probably the one that I feel like I have the game to win as opposed to the Masters.
Motivated
"I guess what I'm saying is I'm more motivated than ever to win major championships.
"I think I've got the experience and belief and knowledge where if I can play my game, I have the tools to then hang around for 72 holes and perhaps get the job done. I feel like I'm more ready than I've ever been to win another major."
McDowell said his confidence was partly based on his belief that the Hoylake course is ideally suited to his game.
"This is my kind of golf course this week and I want to give myself as many opportunities as I can to win majors," he said.
"I like it because you can't take trouble out of play. St Andrews is an example of a golf course where the big boys can just aim as far left as they want and hammer it and hit it past trouble.
"I think Lytham forces you into necks. This golf course forces you into little areas. It's well bunkered, there's bunkers at 260 and 290 yards where you have to be disciplined off the tee and find fairways and rely on good iron play."