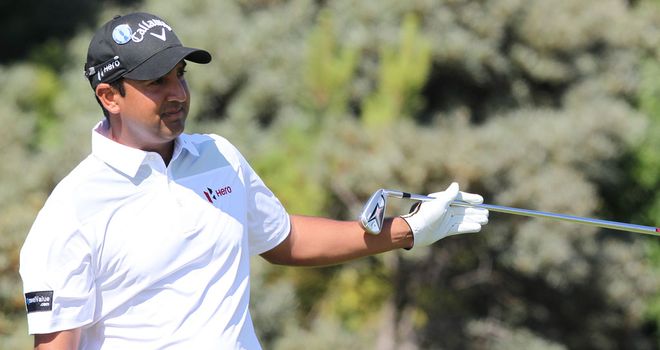 Shiv Kapur: Contrasting starts to first two rounds
Shiv Kapur failed to rediscover his amazing first-day form as he stumbled to a second-round 77 at the Open Championship.
The unheralded Indian was a surprise leader late on the opening day at Muirfield when he birdied six of the first seven holes before coming home in 38 to post a three-under 68.
But in contrast to Thursday's remarkable start, Kapur started his second round with four bogeys in six holes before picking up his first shot of the day at the long ninth.
He also dropped shots at both 17 - where he shanked his third with a wedge - and 18 to slip to three over for the tournament, but he was nonetheless delighted to make the cut in a major for the first time.
"It was a tough start. This is not a golf course where you can fight and get a lot of shots back," said Kapur.
"It is more a question of hanging on. When you get off to a bad start, you are trying to hang on because there are not too many birdie opportunities.
"I thought I did a pretty good job after the bad start, but unfortunately I had that dreaded 'S' word on the 17th hole. I had a wedge in there but shanked my shot. I did well to make bogey.
Big numbers
"I managed to keep big numbers off my card. I made a bunch of bogeys but at least I kept it down.
"My ball was plugged on the fourth hole. When I tried to play it to the left, the ball hit the lip, came back down and plugged even further in the bunker. I'm happy I made up-and-down for bogey when it could have been worse.
"I think one consolation was that I managed to hang in there and be in the mix somewhere. Hopefully I can recreate some of the magic which I did on the first day.
"You have a great field of players here and if you are in the top-70 then you know you got game. Obviously that's one stumbling block out of the way and I just need to move up the leaderboard as much as I can."