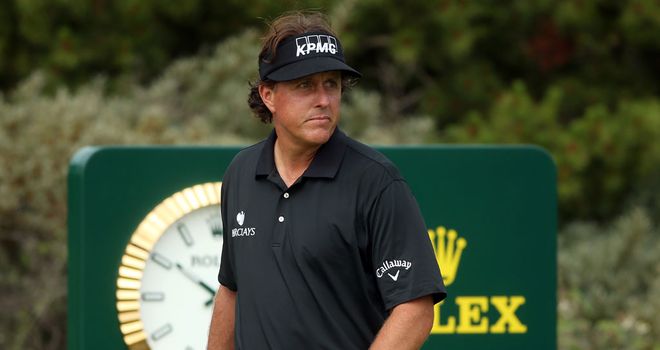 Phil Mickelson: Claims he was almost run over several times
Phil Mickelson revealed that he was annoyed by the volume of officials after beginning his Open Championship campaign with a solid two-under 69 at Muirfield.
The left-hander, bidding for a rare double after lifting the Scottish Open title at Castle Stuart last week, struggled to hide his irritation at the number of people and vehicles inside the ropes.
But he kept his concentration in check and defied the hard and fast conditions to mix four birdies with two bogeys, including one at the last that left him three behind early clubhouse leader Zach Johnson.
Mickelson 2 under after day 1
"It's a different culture over here," said Mickelson, who is making his 20 appearance in the tournament. "In the States we don't have 90 people inside the ropes, we just have a few.
"But it's always been that way, I knew it coming over. Last week I almost got run over by a cart four or five times on the front nine.
Lucky
"Today we got run over a couple of times walking down the middle of the fairway by people. It gets annoying after a while."
Mickelson got off to an excellent start with birdies at the second and third, but he then suffered "technical difficulties" and scrambled hard to reel off a series of pars - dropping just one shot at the eighth.
"I just had a slight mishap for about five holes mid-round and I was able to fight and make pars," he added. "I kind of advanced it up to the green, two-putted from 80, 120 feet and got it turned around.
"I got very lucky to play early today because as the day wore on and we got to the back nine, about a third of every green started to die and became brown.
"The pins were very edgy too, on slopes and whatnot, that the guys that played early had a huge, huge break because even without any wind here it's beyond difficult."