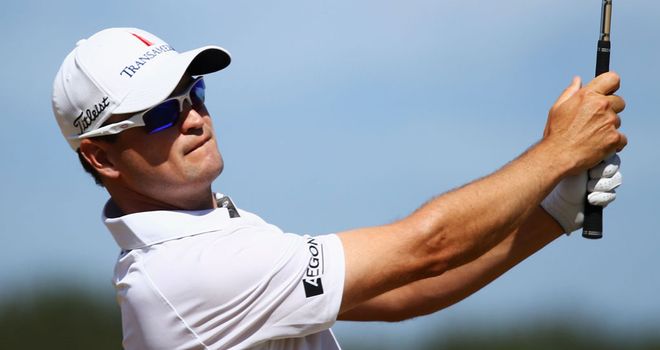 Zach Johnson: Four birdies and an eagle in Muirfield opener
Zach Johnson put the disappointment of last week's near-miss behind him to make a flying start to the Open Championship at Muirfield.
The American needed a par at the last to retain his John Deere Classic title on Sunday, but he closed with a bogey before losing out to teenager Jordan Spieth at the fifth hole of a play-off.
But the 2007 Masters champion offered an excellent response, storming to the turn in 31 before coming home in level par to post a five-under 66 and take the clubhouse lead.
"I think this game demands resilience," said the 37-year-old, who followed a birdie at the third with an eagle at the fifth before picking up further shots at six and seven.
Zach Johnson 5 under after day 1
"It demands resilience on the golf course, each round, each hole, and day to day. But it also demands it week to week, and that just comes with experience.
Embraced
"That certainly comes with embracing what's happened and then also throwing it behind you and plodding along to the future.
"If anything from last week, what I've embraced is the fact that I'm playing great and I can put that into play, and I'm certainly somewhat confident in what I'm doing, confident in my routines.
"I felt great about last week. I'll be honest with you. I certainly had ample opportunities to win it. The last nine holes in particular I hit great shots but I just didn't make many putts.
"It wasn't like there's a whole lot of negative there. If anything, there's certainly more positives last week than negatives."
Johnson felt his putting had cost him his title at Deere Run, and he was happy to rediscover his touch on the hard and slick greens at Muirfield.
"Any time you shoot under par in an Open or a major, for that matter, you have to be putting at least somewhat decent, and I putted great," he added. "I made some nice birdie putts and obviously that one for eagle.
"But I struck some really nice solid par putts. That's what you've got to do to stay in it. All in all, very solid, but just it's just one round."