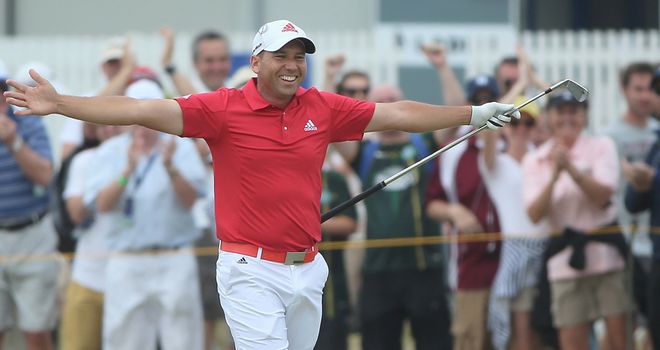 Sergio celebrates after holing his second shot for eagle
After his four-under-par first round of 68, a replica of his start in 2006, Sergio Garcia said that even in the tough years this championship felt different for him.
"I love it so much," he declared.
Some might have been surprised by that thought because Garcia has been through a lot at the Open Championship.
There were the teenage tears after the missed cut at Carnoustie in 1999, the victory which slipped from his grasp at the same venue eight years later and memories of his final round head-to-head with Tiger Woods here at Royal Liverpool in 2006 which quickly became a mismatch.
That year he famously (or infamously) wore an all-yellow outfit in the final round and Woods is reputed to have texted friends the message "I just beat Tweety Pie" after he closed out the victory.
But whilst that canary outfit has become synonymous with his previous Hoylake appearance, it is often forgotten that in the third round eight years ago Garcia had the sort of day which explains his love for the event and the fans.
That day he hit a sparkling round of 65, a classic Open charge which saw the galleries dance through the dunes.
They roared their approval of Garcia's every shot and every putt that dropped. They galloped from green to tee for the best vantage point. They eagerly shared news of his feats with newcomers.
It was electric. Like Seve at his finest, Garcia shared (and shares) his joy with the gallery, fist-pumping in their direction, feeding off their noise, not contained in his own little world like so many world class golfers.
That's why he says: "I enjoy being out there on the links. I enjoy the people. It feels like a Ryder Cup."
What Garcia doesn't like so much is the knowledge that he still hasn't won a major. He's played in 63 of them now without victory - only Lee Westwood (65) has played more without that crucial win.
He has form in the Open, we know that - seven top ten finishes in 18 starts. We also know he has form this year - six top ten finishes in just ten starts on the PGA Tour and a win in Qatar on the European Tour.
The question that remains with the 34-year-old is one statistics cannot answer: what will make the difference between agonising defeat and longed-for victory?
Knows how to play
One thing is for sure - he knows how to play links golf and he knows how to play in the wind.
On Wednesday, in practice, he watched his three playing partners hit their approach shots into the final green. Each one hit a draw which was hit by the right-to-left wind and came up short in the greenside bunkers.
No problem. Garcia took a 3-iron and smacked it low, with a touch of cut. It flew like an arrow, never more than five feet off the ground, finding the front edge of the green. It was instinctive, fun and exhilarating.
On Friday, starting the second round two shots off the lead, we assumed he had the opportunity to use that links expertise to his advantage, having watched the morning starters struggle.
When he pulled his opening tee shot so wide of the first fairway it was actually in the rough on the 18th hole you wondered if it was going to be his day, especially when he compounded the error by three putting for bogey.
But he likes the second hole.
Back in 2006 he holed out with his second shot on Saturday for an eagle two. In this year's first round he very nearly repeated the trick.
Today he did repeat it, hitting a beautiful 6-iron which faded into the wind, drifted back to the pin, landed softly and dropped to the bottom of the cup.
The gallery leapt to their feet and Garcia held his arms wide, laughing with his caddie about his absurd fondness for the approach shot.
On the very next green, however, he three-putted again. He made up for it with a birdie on five, but it was clear he was fighting his swing. It was not so much his supreme ball striking skills as his silky touch around the greens and from the bunkers that caught the eye.
Provide energy
It needed the gallery to provide energy. Two men in a hospitality unit called out his name - he turned and gave them a smile. A small boy sang "Let's go, Serg-i-o!" and received another smile and a low-five.
Royal Liverpool's turn is marked by sandhills. They provide definition for the golfer and excellent vantage points for the galleries. Those galleries whistled and called his name. He acknowledged them, nodding directly at some voices rather than vaguely in the spectator's direction - classic Sergio.
But his round never quite ignited. A two-under-par 70 left him six-under-par for the tournament and six shots adrift of the leader Rory McIlroy.
Maybe it was no bad thing, however.
Sergio loves the galleries and loves this event, but he is no fan of press conferences. His demise at Carnoustie was an unfortunate textbook example of a player worn down by questions.
Golfers do not like to predict what will happen tomorrow, journalists want them to try.
Padraig Harrington likes to talk so he can get away with it. That week Sergio couldn't.
In finishing where he did Sergio avoided that frustration, the press were focussed on leader Rory McIlroy. It might be a good thing if it happened again tomorrow, so he avoids any questions of yellow outfits.
Because it may be that the secret to him finally winning a major is not slipping under the radar of the field, but slipping under the radar of the media.