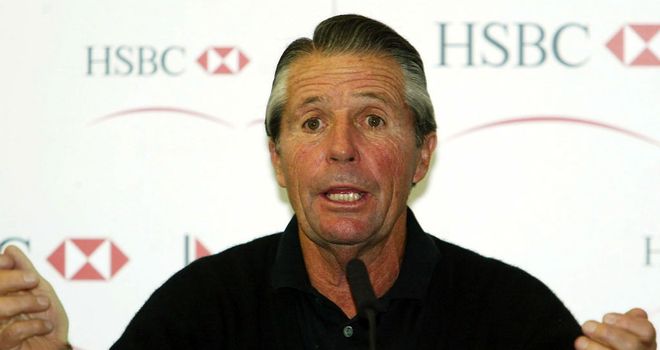 Gary Player: Thinks golf will need to evolve to deal with the changing environment
The sport of golf has undergone mass changes over past decades and is continuing to evolve. A new piece of research commissioned by global investor in golf, HSBC, to mark the 141st Open Championship has found a major Asian presence among the world's top players and low-cost urban golf courses are just some of the additional developments which can be expected over the coming years. And with this in mind, Sky Sports listened to the views of nine-time Major winner Gary Player to find out how golf has changed.
What is the biggest change you have seen in golf over the period you have been involved with the sport?
The game has changed in a number of ways. One of the most dramatic changes has been in the technology. Advancements in the golf equipment and turf maintenance are astounding. Players are able to hit it farther than I have ever seen. Combine that with the perfect conditions of today's courses and you are bound to see a larger group of players shooting lower scores on a more consistent basis.
What type of player tends to do well in the modern game in comparison to 20 years ago?
We have seen a number of big hitters do well recently, with Bubba Watson winning the Masters, but I think the keys to winning have not changed very much. The short game will remain the key to winning consistently. Remember, more than 70 per cent of all shots are played from 100 yards in. Above all, the most important quality in a champion golfer is your mind and the power to remain positive. Today's golfer encounters additional pressures from media, fans and sponsors, so your mind is crucial.
In light of 14 and 15 years olds qualifying for recent majors, what do you think is the typical career life span of a modern golfer?
Golf is a lifetime sport. With the junior programmes today, a golfer could very well be successful from age 16 to age 60 professionally. I am 76 years young and still playing in tournaments. Tom Watson nearly won the 2009 Open Championship at nearly 60 years old and 14-year-old Andy Zhang competed in this year's US Open. It is amazing and part of what makes golf such a wonderful sport.
How has access to the game of golf changed over the course of your career?
Many more people now have access to the game and the number is consistently rising. The number of public courses has risen and junior programmes have started taking off in many of the up-and-coming golf countries. Gary Player Design was lucky enough to design the first 36-hole public golf course in Hong Kong, The Jockey Club, Kau Sai Chau, and it is one of the busiest facilities in the world. That is an accomplishment of which I am still very proud. We are now very busy designing courses in many emerging markets, which will expand the base even more.
What have been the main technological developments you have seen in the sport?
The golf equipment and ball have completely changed. One of my main concerns at the moment is how far the ball travels. With the advancements in golf ball technology, courses now have to be needlessly lengthened. These costs are hurting the game because courses are going to have to recoup the costs somewhere. The expense to scale back the ball would be miniscule compared to the money being spent around the world modifying golf courses.
Do you consider yourself to be a 'celebrity' and do you think this trend has a place in the sport?
I do not consider myself a celebrity, but I think that achieving success in sport brings about a certain high level of fame that comes with many responsibilities. Nelson Mandela once said, 'Sport has the power to change the world'. The power of sport was clearly evidenced in the political change in South Africa, but what athletes must realise is that we must act as role models for the youth of society. We need to have discipline, manners, punctuality, good attitudes and a clean image free of drugs. To whom much is given, much is required.
Looking forward over the next decade or so, what will be the biggest changes affecting the sport?
I think that you will see a lot of changes in the future to make rounds of golf shorter and courses more accessible to the everyday golfer. For golf to grow, there will have to be ways to play that will not take nearly as long to complete a round. Time is of essence to everyone. We have the responsibility to design and build enjoyable courses for the masses, not just the low handicapper or professional.
What do you make of the rise in Asian golf?
I think it is great for the game. I have been traveling to Asia since the beginning of my career and the exponential growth that has taken place in recent years is remarkable. Asia has shown a wonderful passion for the game of golf, so it is just amazing and exciting to see. I look forward to seeing champions come out of the area and to spending more time there in the future. We have worked on more than 100 golf course design projects in Asia and I am looking forward to building many more golf courses for people to enjoy in the years to come.
Where do you think the next growth markets are for the sport and why?
Our design business is very busy in Eastern Europe, the United Arab Emirates, Latin America and Asia right now. But in addition to those markets, I think you will start to see more growth of golf in South America with the Olympics being hosted in Rio de Janeiro in 2016.
What do you think will be the impact of golf's inclusion in the Olympic line- up in 2016?
I am thrilled that golf will be included in the Olympics once again. The exposure will be a great catalyst for growth and development around the world, especially in new, emerging markets. With the Games being hosted in Brazil, I think the growth on the continent will be tremendous. I hope that more and more people will learn about what a great sport golf is and start to play.
Do you think the recent global recession has impacted the game of golf?
There is no doubt in my mind that the recession has impacted the game of golf in most parts of the world. To give you an example, there are courses closing everywhere you look in North America and there have been very few new courses opening. There are positive stories, however, and it is our job to find them. There are a number of emerging markets in Asia, Eastern Europe and the Middle East, for example, where golf is being developed to help attract tourism. The typical golf centred residential real estate model is alive and well in some countries like China and India. As the middle class in these countries grows, these projects have a great opportunity for success and the game should grow as a result.
How much consideration do you and your fellow professionals give to environmental issues, such as Carbon offsetting and sustainability?
I am a farmer at heart, so I have always had a great deal of respect for the land when designing courses. We seek to take a proactive and positive approach to the design to ensure that we respect the land. It is important to utilise the natural features and native plants, grasses and trees, not only because it will minimise the impact, but also the maintenance costs. I am thankful to see that most designers around the world are taking the environment very seriously.
If you were able to meet someone who had recently returned from 2025, what two questions would you ask them about the future of golf?
- Has anyone been able to join Gene Sarazen, Ben Hogan, Jack Nicklaus, Tiger Woods, and myself in achieving the career Grand Slam?
- Did golf's governing bodies do anything to scale the golf ball back?
Nine-time Major winner Gary Player was speaking on behalf of HSBC, proud patron of The Open Championship. For more information on HSBC's international golf programme visit www.hsbcgolf.com