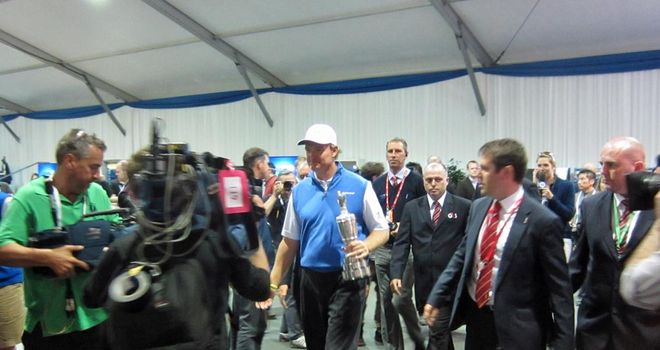 Ernie Els walks into the media centre with the Claret Jug
1930: Ernie Els cuts a hugely contented figure as he speaks to the press. You get the impression he almost feels as bad for Adam Scott as he feels delighted for himself. He says he knows he was 80/1 at some point this year (quite right, Ernie) and reveals that he's felt much more confident in 2012 compared to last year when he felt he couldn't win another major (he now has four). The South African also reveals how he had son Ben in mind when he made many of his putts today and wanted to keep him excited. Ben has autism and Ernie has been a fierce and committed fundraiser with his Els For Autism charity. He's a lovely bloke, Ernie, and given his superb record in this event he fully deserves to win it for a second time. And so that's it for another year. As usual The Open has thrown up all sorts of stories and drama and I can't wait for the 2013 event in Muirfield. Neither can Ernie. He won it the last time it was held there in 2012 and describes it as "my favourite Open venue". Hats off to Ernie Els and commiserations to Adam Scott.
1911: Adam Scott conducts the most dignified press conference you're ever likely to see. He must be devastated and yet answers all the questions - including a ridiculously mistimed one about whether he has relatives from near here - like an absolute gentleman. He knows he "let a great chance slip" but says he's a positive guy and will try to take the positives.
1821: Scott misses!! Ernie Els is Open champ for a second time!!
1816 Scott is having to come out of the fairway bunker sideways. Pitches out. Has to get up and down to force a play-off. Hits third to eight feet and huge applause in media tent.
1812: Ernie shown on the phone on TV. Presumably the person on other end is saying: "Scott just drove it into a bunker on 18." Yes, Adam has found sand at the last. If he can't make par, Ernie wins!
1807: Scott makes bogey at 17. It's all tied!
1802: And now Scott's approach to 17 is long and disappears into the grass. Incredible.
1800: Amazing scenes. Huge roar in the press tent as Els makes massively important birdie at 18. Scott's lead cut to one. There is huge affection for Ernie amongst the media.
1755: Oh my. Scott misses short putt at 16 and makes second consecutive bogey. Ernie has good birdie chance at 18 coming up. My Australian jouro friend Ben Everill tweets: "heart rate just tripled... #cmonAussie"
1742: Engraver won't get to work just yet as Scott bogeys 15 after finding sand. His lead is cut to three with three to play.
1732: Ernie misses his 10 footer for birdie at 16. He had to hole that really. Time is running out. Trails Scott by four and Adam has just hit a booming drive down the 15th fairway.
1730: A clenched fist from Adam Scott as he nails his birdie putt at the 14th. For the time being he's four shots clear of Els and seven clear of the duo of Woods and McDowell in tied third.
1715: Adam Scott doing all he has to - churning out pars. That's six on the trot now and he leads by three from Els. In other news, National Club Golfer's Mark Townsend has just made me a shocking cuppa. Tea bag has burst and loads of bits floating about. Don't have heart to tell him.
1700: Luke Donald cards a 69 and, as it stands, he's snuck into tied fifth with most of the leaders falling apart. Good on one hand, but if Luke was a racehorse, his form for this event would read: "Never in contention. Nearest finish."
1645: Extraordinary shot by McDowell. A weird, amateur's pull into some trees at 11. One of the worst shots I've ever seen from a pro!
1630: Nine holes to go and Adam Scott leads by four shots.
1620: McDowell birdies the eighth to cut Scott's lead to three with 10 to play. Two shots back to Woods, Snedeker and Els. Sky Bet go: 4/9 Scott, 5/2 McDowell, 14/1 Woods, 18/1 Els, 33/1 Snedeker.
1610: The leaders dropping shots galore here. Snedeker has just had back-to-back double bogeys and yet is still tied fourth!
1550: Just when I write off Tiger, he chips in for birdie at seven to get within five shots again. Scott now four clear after Snedeker takes a double bogey seven at the seventh.
1545: It's revenge of the bunkers at Lytham now. Brandt Snedeker didn't go in any for two rounds and led at -10. Now Tiger has just had two swishes in one at the sixth, his second a miracle escape after sitting outside the sand trap, resting sideways and squirting his shot out. For all that though he made a triple bogey and dropped seven shots off the lead. Looks like his race is run. Now McDowell finds the pot bunkers at six and needs two goes, the first just moving the ball into the middle of the trap to give him a chance. Plays a lovely second one and limits the damage to a bogey. And leader Adam Scott doesn't escape unhurt either. He finds sand at six, can't get up and down and drops back to -9, just two clear of Snedeker now. McDowell is four back.
1500: Massive crowds out there but, with a bit of neck craning, I managed to watch the two leaders play the first two holes. Big "ooohs" when Adam Scott missed his five foot par putt at the first and even bigger cries of "go on G-Mac" when McDowell holed his for a three. That instantly cut the gap to three shots but at the second he found trouble. A drive into the bunker meant he had to chip out and then he still had a 3-wood to the green. McDowell found sand again but his bunker shot hit the flag and he limited the damage to a bogey. Scott meanwhile hit a beautiful second and I watched his ball drop out of the sky and roll up to four feet (at least it looked that far from where I was stood 80 yards short of the green). Scott knocked it in this time for a birdie and suddenly he was five clear of McDowell after the two-shot swing. It's a real Open scene out there now. Warm, dry and trampled down brown-looking hay. The wind is still nothing out of the ordinary it has to be said. If you were playing in this wind you'd feel like it was fairly normal.
1420: Well, here we are on Open Sunday. At 0630 on Thursday I watched Barry Lane get the tournament underway. Now I'm off back to the first to see the final group of the tourament tee-off - Adam Scott and Graeme McDowell.
1407: Big cheer on the practice green just now as Tiger threw up a parachute lob which dropped into the hole.
1355: Rory McIlroy has had a hugely disappointing week. He finished at +8 and is currently tied 62nd. Now that he's finished, he's going to spend the rest of the day cheering on his good friend Graeme McDowell. "I'm going to be sitting in front of the TV and pulling for him. These conditions should suit him. The tougher it gets, the better it is for him. Adam has obviously got a bit of a lead. But I know from experience it's hard to go out and protect something like that. It will be an interesting afternoon."
1335: Latest weather still saying "isolated gusts of 35mph wind possible after 1500". The final group tee off at 1430 by the way.
1345: That's official. All outright tips dead as Dufner double bogeys the third (makes noise of Muttley the dog).
1325: Thorbjorn Olesen has "future superstar" written all over him. He's played superbly this week and will now hope to finish it off with a strong performance today. Currently he's in solo seventh spot. Just watched the young Dane on the practice putting green before he crossed the bridge to the range. Loads of young fans were screaming for his autograph. Guess he'll have to get used to that over the coming years.
1315: Colsaerts signs for a 65, his second 65 of the week. Shame he shot 77-72 in the middle rounds. One for the notebook when it comes to backing players in future Opens.
1245: Another birdie for Nicolas Colsaerts as his 20 footer drops into the hole at 16. A birdie at 18 would give him a 65 and a total of -2. Who knows, if the wind blew, that could even sneak him into a top six or seven finish think all those who have backed him each-way.
1240: Nice outward half of 32 by Rickie Fowler - three birdies and a bogey. Shame he's not just a little bit closer. He's joint top of the birdie stats this week but has had too many costly holes to get into contention. Still think he'll be a regular challenger in this tournament though.
1225: Two eagles so far today. Ian Poulter after he holed his approach to the par four 2nd and Ross Fisher after he drove the 16th green.
1215: Watched Aussie John Senden hole a 20 footer for birdie at 15 earlier. He played the back nine in three-under today. How much could he sell that for to one of the leading contenders? Senden's 68 is the best round of the day so far of the 15 players who have completed. Ross Fisher, with a 69, is the only other player to break par.
1150: Andres Romero signs for an 82 and is last by four shots. "Again, next year?" asks Carloz Tevez. "Erm, I'll call you," says Romero, lying through his back teeth.
1130: Warning for Rickie Fowler impersonators, he's wearing white trousers and a white hat with his orange shirt so you need to adjust your clothing accordingly. He's made a great start by the way. I heard on the radio that he'd birdied the first and then I saw him roll in a short birdie putt at the second. It's helped him climb back to +1.
1125: I think that was the best Sky Sports News radio piece I've done ("that wouldn't be hard," say listeners). I'd just got back from watching Carlos Tevez's attempts at being a caddie and presenter Jon Ivan-Duke seemed gobsmacked that the Manchester City star was out there. So how did Tevez perform. Well, not too bad. He kept things fairly low-key and didn't fall into a bunker or anything although when his man Romero hit a wild drive on 16, he just stood there chewing whilst Romero and Chad Campbell's caddie thrust their arms out right to signal that was where the ball was going. As you can imagine, there seemed to be a lot of chuckling - policeman, marshals, spectators - that Tevez was out there wearing an Open bid so it's certainly added some flavour to these early stages when not much is happening. No truth in the rumours that Nelson Mandela is caddying for Ernie Els.
1030: Now fuelled, I'm off to see if I can see Tevez. Wouldn't be surprised to see him grab Romero's club and have a shot himself.
1025: Last full English of the week. Pretty good.
1020: Yes, Carlos Tevez is definitely a caddie in The Open today. Although he can expect to be fired very soon. Romero is seven over for the day and dead last!
0940: Just had a tweet: "Okay Rory +4 thru 4 holes? Is it wrong to assume a Yoko issue? I thought it was media nonsense but now I'm not sure." This, of course, a reference to Rory's relationship with tennis ace Caroline Wozniacki turning his head and changing his focus, just as Yoko did with John Lennon. I'm not so sure though. Perhaps when they grow their hair, book into the Amsterdam Hilton and starting having "bed-ins" in the name of peace I'll buy into it more. Wozniacki is far more popular than Yoko. And she doesn't make weird avant-garde films about bottoms.
0930: Rumours here that unpredictable Manchester City and Argentine striker Carlos Tevez is caddying for compatriot Andres Romero today. Will have to get a picture of that!
0905: First Sky Sports News radio piece of the day. Funny echo on the line so I could hear everything I was saying firing back at me. Battled on gamely though. What a pro.
0845: Sunshine and mostly blues skies greet us on arrival. No signs yet of these demon 30mph winds. Probably around 10mph at the moment.
0830: As an odd number of players made the cut, the player dead last, who starts the day's play off, has the option of playing with a marker. Martin Laird is the unfortunate occupier of that position and, on the walk in, Matt Cooper was berating the Scotsman to shun the marker and play on his own. "I couldn't crush someone's dreams like that," said Matt (stood on a high horse). However, it turns out that the guy who accompanied yesterday's last place starter, Joost Luiten, was a bag of nerves and had a shocker. By the fourth hole he was being asked to pick his ball up as he was holding up Tom Watson and Lee Westwood in the group behind.
0800: Public transport to the course today - a bus as, bizarrely, they've stopped running the local trains.