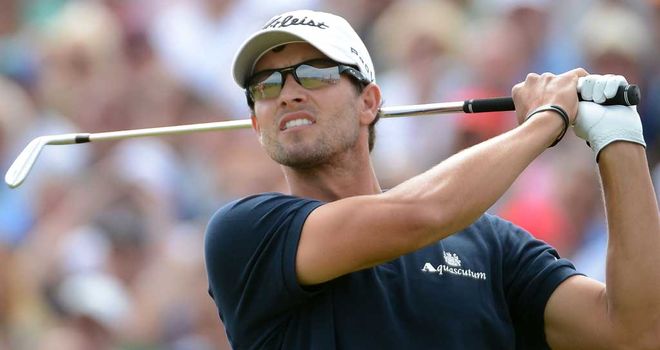 Adam Scott: Let four-shot lead with four holes to play slip at the Open
Adam Scott felt his ball-striking, rather than nerves, was the reason for his late collapse in The Open at Royal Lytham.
Scott threw away a four-shot lead with six holes to play, a combination of bogeys at the last four holes and a great finish from Ernie Els handing victory to the South African.
"I was surprisingly calm the whole way round," Scott said after the final round of 75 which left him one behind Els.
"I was a little nervous on the first tee but less so than Saturday. I probably spent up all my nerves over the 24 hours leading up to today.
"It's funny, I definitely worked myself up a little bit at times, but once I was out there I felt completely in control and even the last few holes I didn't really feel like it was a case of nerves or anything like that.
"It came down to hitting the ball, not making a couple of putts on the last four holes. If I make either of those on 15 or 16 it's a very different position and a lot more comfortable.
"It was a sloppy finish and disappointing to finish that way. I played so well all week.
"I wasn't really out of position but I managed to get myself in trouble and could not make the putts to get out of it over the last four holes.
"I know I've let a really great chance slip through my fingers but somehow I'll look back and take the positives.
"I don't think I've ever played this well in a major so that's a good thing for me moving forward. All the stuff I'm doing is going in the right direction."