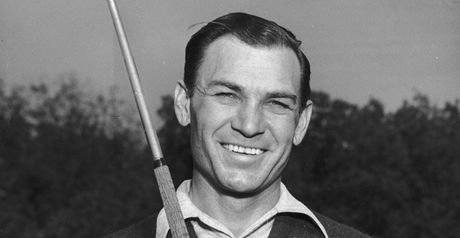 Ben Hogan
Many of the great Masters traditions hail from the 1950s, a decade which saw the event flourish and become accessible to a wider audience via television.
50's Moments
1950 US shock England in World Cup
1951 Festival of Britain opens
1952 Elizabeth II succeeds throne
1953 Hillary scales Mt Everest
1954 First atomic submarine
1955 Disneyland opens
1956 The Suez Crisis
1957 Britain tests hydrogen bomb
1958 First UK motorway
1959 Barbie dolls for sale

The period began with victory in 1950 for Jimmy Demaret, who thus became the first three-time winner of the event, and it ended in 1959 with Art Wall Jr's only win, claimed in style with five birdies in his final six holes.
In between times Augusta National witnessed a series of thrilling ding-dong battles between two legends of the game and then a maiden win for a young man who would go on to become a great.
That first period began with Ben Hogan's first Masters title in 1951, a long awaited triumph for the greatest grinder of them all.
Two years later he dominated the field, posting a score of 14-under-par which was five shots better than both his nearest rival and the previous tournament record.
Between Hogan's two wins his great rival Sam Snead also earned a second title and in 1954 the two went head-to-head, with Snead emerging victorious after an 18-hole play-off.
Snead very nearly claimed a fourth Green Jacket in 1957 but he was overtaken by an inspired Doug Ford who holed out from a plugged lie in a bunker on the final hole.
In the two previous runnings Cary Middlecoff won his only Masters in 1955 and 12 months later Jack Burke Jr, who trailed the amateur leader Ken Venturi by seven strokes, slogged a final round 71 in brutal wind to earn a hard-fought victory.
1958 was an iconic year for the Masters. Not only did Arnold Palmer win his first Green Jacket but Herbert Warren Wind used the term 'Amen Corner' in print for the first time.
It was just one of many iconic Masters traditions that hail from this decade. In 1952, on the suggestion of Ben Hogan, the club introduced the Club for Tournament Champions and Hogan himself hosted the first Champion's Dinner on the eve of the event.
Two years later the club introduced the idea of giving crystal for the day's low score, eagles and holes-in-one, and in 1958 the much-loved par-three course was built.
1956 was also a crucial year in the growth of the Masters legend because it was then that, for the first time, golf fans around America could get a glimpse of Augusta's wide fairways with the first television broadcast from the final four holes on the course.
FOCUS ON - BEN HOGAN
Ben Hogan was a golfer like none before him: a relentless practiser whose tireless dedication initially bore little fruit because, when the pressure was at its greatest, his putting became suspect. Never was this more cruelly apparent than in 1946 when, still yet to win a major, he hit a typically imperious 5-iron to the final green but then three-putted from two-and-a-half feet to not only lose the title but miss out on a play-off place too. It was a crushing blow but nothing compared to the car accident that almost killed him in 1949. Yet Hogan was unbreakable and in 1951 he finally claimed the Green Jacket he craved. Two years later he added a second in stunning style: his 14-under-par total not only broke the tournament record by five shots, it has also been bettered by only six subsequent winners. In addition to those two wins, in the 10 events he played during his heyday (1946 to 1956) Hogan finished second three times and never once finished worse than tied 8th.