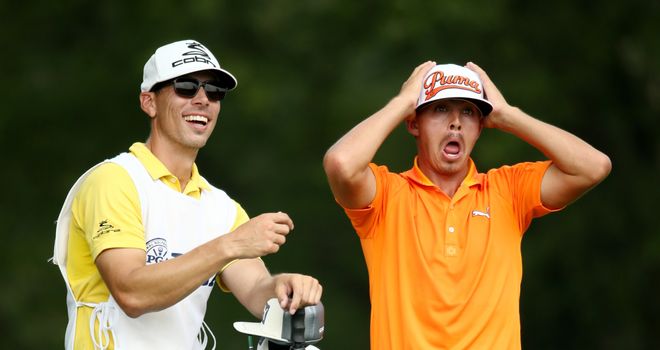 Rickie Fowler (R) of the United States reacts on the fifth tee as caddie Joseph Skovron (L) looks on during the final round of the PGA Championship
Rickie Fowler admitted Rory McIlroy is the "best player in the world" at the moment after again missing out on a major win at the PGA Championship.
Fowler tied for third place at Valhalla – two shots behind McIlroy - meaning the American has now finished in the top five of each of this year's major championships. That is a record he shares with only two other golfers, Tiger Woods and Jack Nicklaus.
The Californian took to social media on Monday morning to congratulate McIlroy, tweeting: "Congrats to Rory McIlroy on some great golf as of late, let's keep having fun with it.
"Really felt like I could win it today, this one hurts, I'll be able to look back and learn a lot from the majors this year."
Earlier Fowler told reporters: "I really felt like I could win this one.
Fowler refused to blame the conditions – there were several lengthy rain delays leading to a late finish in near darkness – but admitted that the hurried finish led to some unexpected challenges.
Disappoitment
"In a way, we never got out of rhythm as far as hitting the golf shots," he said. "I don't think it really changes it much. We were allowing them to hit the tee shots…and then weren't expecting the approach shots to come."
Fowler also expressed disappointment at his own game and identified a particular shot which might have cost him victory.
"The 9-iron on 17 out of the fairway," he added. "I had a good number to the left pin (153 yards) and just didn't catch it clean. I make birdie there and have a chance to make a 3 or 4 at the last, and it's a different story.
"That, was kind of not the best swing at the wrong time.
"Obviously, Rory played great this week, and he's been a deserving champion the last three tournaments. He playing quite good right now. Best player in the world hands down.
"We'll see if we can sneak one away from him at some point."