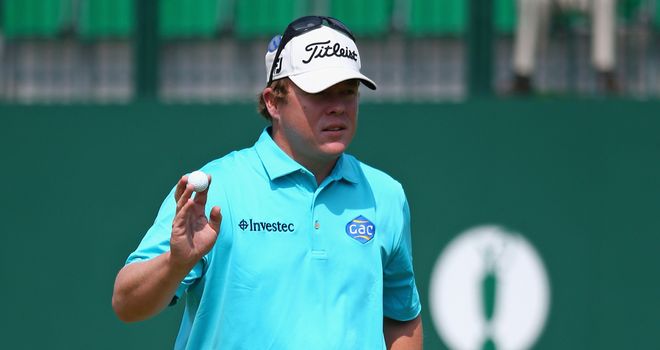 George Coetzee: Briefly shared the Open lead on his 28th birthday
George Coetzee plans to hold back on his birthday celebrations after shooting himself into Open Championship contention at Hoylake.
The South African turned 28 on Friday and marked the occasion by carding a second round of 69 to move to five under par at a windswept Royal Liverpool course.
The effort left him one stroke behind overnight leader Rory McIlroy before the Northern Irishman took to the course for his 2.27pm tee time
With plenty of serious business to conduct over the weekend Coetzee revealed he would limit himself to "a couple of Cokes" in celebration with his mother and girlfriend, who arrived from South Africa on Thursday.
"It's nice to play well in a very prestigious event and to have my birthday coincide with it is also nice."
George Coetzee
Five birdies briefly took Coetzee alongside McIlroy at the top of the leaderboard, but bogeys on the 16th and 17th halted his charge before he finished in style with another birdie on the 18th.
"I think it's obvious I looked at the leaderboard as soon as I was at the top, because I made two bogeys right after that," Coetzee said.
Pleased
"But it was quite a good feeling to look at my name and be at the top of the leaderboard.
"You obviously know you're in contention and your score shouldn't affect the way you play, but obviously there were maybe a little bit of nerves on the second putt (on 16). But I'm not too disappointed, those things kind of happen when you're leading and when you're missing a cut.
"Six under was a hell of a score yesterday and I didn't think it was doable today to get to that number, but when I made birdie on 13 I was like, well, all right, now I'm pretty close."
Win a trip to The Ryder Cup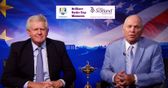 Vote for your favourite moment and you could win the trip of a lifetime for you and three friends to The 2014 Ryder Cup
Click here for further details
"This is definitely my favourite major. It's always going to be my birthday week. It's nice to play well in a very prestigious event and to have my birthday coincide with it is also nice."
Having played in the afternoon on Thursday and the morning on Friday Coetzee looked to have overcome the toughest side of the draw, despite admitting he was not a natural links player.
He added: "As a junior I wasn't very good at the coast, because Pretoria is I think 4,600 feet above sea level and it's more parklands golf courses.
"Up until the age of 16 I never broke 80 at the coast, but as the years went on I tried to teach myself how to play at the coast and one of my Sunshine Tour wins was on a links golf course. I enjoy playing links golf. There's a lot more imagination and you can putt from anywhere."