Team Europe
Check out our profiles of the 2013 European Solheim Cup team.
By Matt Cooper
Last Updated: 12/08/13 4:07pm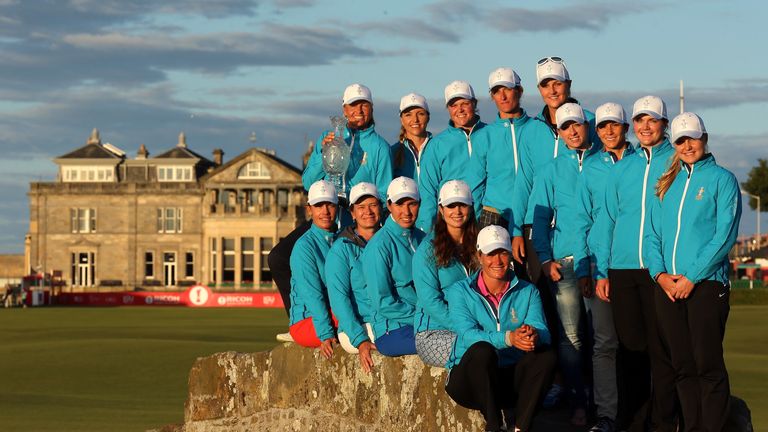 Suzann Pettersen
The Norwegian already had a strong Solheim Cup record coming into the singles matches on the final day in 2011, but what followed next was little sort of legendary. Not only did she use the lightning delay to rally her team-mates, she then birdied each of the final three holes to turn a one hole deficit into a one hole win. It was a team win, but inspired by Pettersen's brilliance. Has nine top seven finishes in her last 12 starts.
Carlota Ciganda
The 23-year-old from Spain was always the favourite to win the LET's Rookie of the Year in 2012, but she trumped that prediction by winning three times and ending the year on top of the Order of Merit as well. She's fearless from the tee, aggressive on the greens and has a touch of Seve about her recovery shots. Her game is very different to Azahara Munoz's but they are great friends and might form a strong partnership.
Catriona Matthew
With the 2011 match tied 8-8 going into the singles the first match out mattered. Alison Nicholas sent Matthew out first and she faced Paula Creamer (a talisman for the US team who had won all three of her previous singles matches). The 43-year-old Scot knew she was facing America's strongest weapon and she knew her result would echo down the team sheet. Her response? She obliterated Creamer 6&5, one of the finest individual Solheim performances in the event history. Matthew will be a key player again this year.
Caroline Masson
Behind the quietly spoken exterior of the 24-year-old debutant from Gladbach in Germany lies a tough competitor with a good sense of humour. After two years of consistency she claimed a first professional win in the 2012 South African Open and then opted to divert her attention to the LPGA. A solid record in he major championships hints at her ability to peak for the big event.
Beatriz Recari
When the 26-year-old Spaniard made just three cuts in her first 13 LPGA starts few would have guessed what would come next. But a first victory in late 2010 turned her from a struggler to a player nicknamed 'Ironwoman' on account of her ability to make cuts. Two victories this season make her arguably one of the most in-form players on either team and she'll be excited about her Solheim Cup debut.
Anna Nordqvist
The 26-year-old from Sweden had a spectacular rookie year in 2009, winning the LPGA Championship, the Tour Championship and making a solid Solheim Cup debut. Since then she is winless on the LPGA, but consistent performances helped her maintain a top 50 world ranking and complete easy qualification for the team. She's proved a good team player in her two appearances (with four wins against two losses) but has twice lost in the singles.
Karine Icher
The 34-year-old Frenchwoman is something of a comeback queen. She made her Solheim Cup debut back in 2002, but moving full-time to the LPGA has impacted on her chances of qualifying for the team since. She is yet to win on the LPGA but she has been incredibly steady for the last 18 months, missing just two cuts in 37 starts since April 2012. Will want to atone for a nervous debut in 2002 which saw her win once and lose twice.
Azahara Munoz
One of the stars of the 2011 match, the 25-year-old Spaniard formed a composed partnership with Catriona Matthew and claimed a vital point in the singles. She adores team golf and rubber-stamped her love of matchplay by winning the 2012 Sybase Matchplay Championship, her maiden LPGA title. Her form has slipped in recent weeks, but she has the personality and determination to thrive again in an event she loves.
Caroline Hedwall
Like Munoz, the 24-year-old Hedwall made a superb debut in 2011, claiming two and a half points from four - the half point in her singles match clinched the match for Europe. A four-time winner on the 2011 LET season she encountered injury in 2012, but still added another title in Europe and began to acclimatise to the LPGA. An aggressive player whose strength is from tee to green.
Charley Hull
The 17-year-old from England made one of the most remarkable starts to a professional career when she reeled off five second-placed finishes in the early part of the year. But many were not surprised because she is not only talented, but confident too. Her selection might be deemed a risk by some. Others expect she will thrive on the challenge and the thrill of the contest.
Jodi Ewart Shadoff
Having based herself in the States the 25-year-old Englishwoman is almost unknown this side of the Atlantic, but she can boast two top 10 finishes in the major championships this year and that must have counted in her favour with captain Lotte Neumann. Her third place in last month's Marathon Classic was her best finish to date on the LPGA.
Giulia Sergas
On bear achievement alone the selection of the 33-year-old from Trieste seems less than convincing because although she was LET Rookie of the Year in 2000 she is still yet to win on that tour or the LPGA (where she has been based for over 10 years). But the consistency of her play in the States (seven top 20s this year) impressed the captain, she is a big hitter and potentially a good team player too.
Liselotte Neumann
The 47-year-old Swede brings an immense amount of experience to the role of European captain - six Solheim Cup appearances, 13 LPGA victories, eight LET wins and the knowledge that comes from having won the 1988 US Women's Open. She is up against it, however, because the US team has never lost on home soil. She will be helped by assistant captains Annika Sorenstam, who played a vital role in the 2011 win, and Carin Koch.