Solheim Cup finale 2011
Matt Cooper recreates the excitement of the superb 2011 Solheim Cup finish, complete with insight from one of the stars, Azahara Munoz.
By Matt Cooper
Last Updated: 12/08/13 4:09pm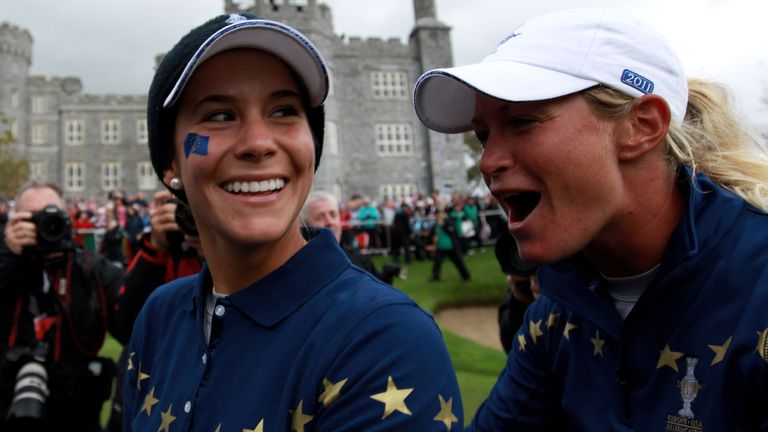 The most dramatic finale
It was the most dramatic conclusion in Solheim Cup history and one of the most sensational finishes to any team competition. All week Europe had looked ready to assume control, but the final few holes had proved difficult for the home side as nerves and American will-power proved hard to overcome.
The final day was disrupted by poor weather and when the players emerged to play the final few holes Europe held a slender advantage, but it looked to be slipping away.
Using his live text commentary of that final day for SkySports.com, alongside insight from one of the stars Azahara Munoz, Matt Cooper recreates the magic of that grand finale at Killeen Castle.
A time for heroes
"It is 12.5 points each with three matches left on the course. Europe needs two points to regain the Solheim Cup but is down in two matches (Suzann Pettersen and Caroline Hedwall) and all square in the third (Munoz). Europe needs some brave souls to regain this trophy. It's a time for heroes."
Munoz - As we took the cart back onto the course, I was sat with Suzann and Caroline. I told Suzann that I'd seen the scoreboard and things didn't look good. She looked right at me and said: "Stop looking at the scoreboard. If the three of us win our matches, we'll win the Solheim Cup."
"Pettersen has a putt of about 20 feet to win the 16th and ... she's made it! She's all square with Michelle Wie. Huge cheers in the media centre and a massive Viking fist pump from Pettersen. Assuming Vikings did fist pumps and I'm not entirely sure they would have done ..."
Munoz - Suzann was repeating the message Alison had given us that morning: don't look at the scoreboard or do any maths. But you know what? I still did it. I couldn't help myself and I thought we wouldn't win. The numbers didn't work. Suzann turned it round for me.
"Back on the 16th tee Hedwall, two down with three to play, has just watched Pettersen hole that putt, but her tee shot comes up short of the green leaving a tricky scramble. Her opponent Ryan O'Toole finds the green."
"Pettersen's approach into the 17th is ... superb! Not a gimme but very close. Wie's response is good but leaves her with 20 feet for the birdie. Munoz and Angela Stanford halve the 15th to remain all square."
Munoz - It was simple. I just knew I had to win my point. Okay, maybe not so simple!
"Hedwall has a tough par putt after her chip. Holing it is essential and ... she makes it! O'Toole calmly follows her into the hole. The American rookie is two up with two to play."
Fearless
"Wie putts first on the 17th ... and it drops! It's a superb response to Pettersen's second shot. Wie is excited and deserves to be. But Pettersen is fearless with her eight-foot birdie opportunity and they head to the final tee all square."
"Stanford's tee shot the 16th - was that a brave line or did she catch it a bit thin? Whatever, she'll have a decent birdie chance. Munoz will putt from a similar position to Pettersen."
Munoz - "I never dreamt that I would be playing in the last match of a Solheim Cup, with my point being so important. I still panic if I think about it!"
"Remember - Europe need two points. They are now all square in two and two down-two to play in the other. Neither Munoz or Stanford make birdie on the 16th. Meanwhile Hedwall finds the 17th green, but O'Toole comes up short."
Munoz - Walking to the 17th tee I was convinced that I needed a birdie. I just had to win the hole. I felt okay over the ball that week, but walking between shots I was more shaky.
"O'Toole's chip cannot get inside Hedwall's approach and she misses the par putt. As the two walk to the 18th tee there are huge roars from the green where Pettersen has hit a magnificent approach to about eight feet."
Pressure
Munoz - When Alison Nicholas said that I would be playing in the penultimate singles match, I became a little bit nervous because of the pressure. I could only think of what might happen if my match became decisive in winning or losing the Solheim Cup. The idea of the team, the captains, the players all depending on me ...
"Wie's approach to the 18th flies the green and finds the sand. Behind, Hedwall finds the fairway from the tee. 'She's a bit good, isn't she?' says someone in the media centre. Wie hits a beautiful recovery from the sand but Pettersen will putt for the win first."
Munoz - I talked to Suzann about that pressure. She was brilliant. She said: "If the captains put you out late it's because they trust you can do it. They know you can cope with the pressure and that you can win the point." I hadn't thought of it like that. It gave me a lot of confidence.
"I'm really too old to type this but ... OMG!!!!! Munoz has just nailed her approach to the 17th. I mean totally nailed it. Astonished laughs and cries of 'brilliant!' in the media centre. I think someone in front of me actually slapped his thigh."
Munoz - I had 111 metres to the pin and decided to hit a soft 8-iron. When I saw the ball in the air I knew I had hit it good but would I get a good result? "Please, be good," I said, "just please be good."
Magnificent
"Under the greatest of pressure imaginable Suzann Pettersen has birdied the 16th, the 17th and now has the chance to birdie the 18th too, completing a sensational comeback win in the process. We watch in total silence and ... she makes it! There is only one word for her finish - magnificent."
"Hedwall prepares to hit into the 18th ... my God, she almost holed it! Behind on 17 Stanford can't make birdie from 20 feet. Munoz is stood over what looks likes a tap-in for a birdie that will put her one up with one to play."
Munoz - After Angela missed her birdie attempt I walked up to take mine. It was less than half a metre, but you know what? I thought that my heart was coming out of my mouth. I'd hit a few tough but short putts that week. I kept telling myself, "You've done this all your life and made them, just focus and hit it. It wasn't that far and yet I'm not sure how I hit that ball, but it dropped in the hole!
"O'Toole flew the green on 18 and Munoz is guaranteed a half so if Hedwall wins the 18th Europe has the vital 13.5 points. O'Toole fluffs her chips ... she needs to hole her second attempt. She fails. Europe has won. I'm off to the 18th green. I think it is possible my head will explode on the way."
Munoz - After I hit my tee shot on the 18th tee, as we walked up the fairway, the crowd were running toward us. They were screaming that we had won the Solheim Cup!
Chaos
"The 18th green is chaos. Players, caddies, family and friends are hugging one another. Some of the players seem to appreciate what has happened, others appear a little shell-shocked. Annika Sorenstam coolly walks around congratulating or consoling. The Europeans players and caddies hold aloft a photo of Seve."
Munoz - The photo of Seve had been in the team room all week. We also watched the video he sent to the 2009 team, with other contributions from Colin Montgomerie and Ian Poulter. It was very emotional.
"Overheard on the 18th green, to Hedwall: 'How did you get a half? Thank you.' There was a rude word in there too, but I've left it out. My favourite line so far? I asked one fan where she was when win was confirmed. "I was in the trees on the 18th, having a wee."
Munoz - It was the best week of my life. Such a great team and so many memories. We won the Solheim Cup - I thought it was impossible at times but we did it!
How the Solheim Cup was won
Aside from the fact that, when the pressure was at its greatest, the three players left on the course played out of their skin, what were the keys to that famous victory?
Alison Nicholas' captaincy is a good start. Saying this was the strongest European team was explicit but her insistence that no player would play more than four matches was implicit. Words are good, actions are stronger. She let those 12 players know that she really did trust them and they responded in style.
The 17th hole turnaround: it was played ten times on Friday and Saturday, Europe halved it twice and lost it eight times. On Sunday - when it really mattered - they played it eight times, halving six and winning twice (Hedwall and Munoz).
A strong team. It seems obvious, but the real value of a good team ethic is not in everyone playing well, but in the combined effort being sufficient. A pairing might lose but their ability to take a match to the final hole might impact on team-mates performance behind them.
But also strong standout performers. Solheim Cups are won by three or four players scoring heavily and Europe had three superstars in Suzann Pettersen, Catriona Matthew and Sophie Gustafson.
71 holes - the number played by Creamer and Kerr on the first two days. One broke down, the other was hammered. Coincidence?
The rookies. Want to know how well Hedwall and Munoz played? They scored 2.5 points each and in the history of the Solheim Cup only two European rookies had scored more than 1.5 points.