Solheim Cup diary 2011
Matt Cooper reported live from Killeen Castle for Skysports.com throughout the 2011 Solheim Cup. Here's his diary of a remarkable week.
By Matt Cooper
Last Updated: 12/08/13 2:08pm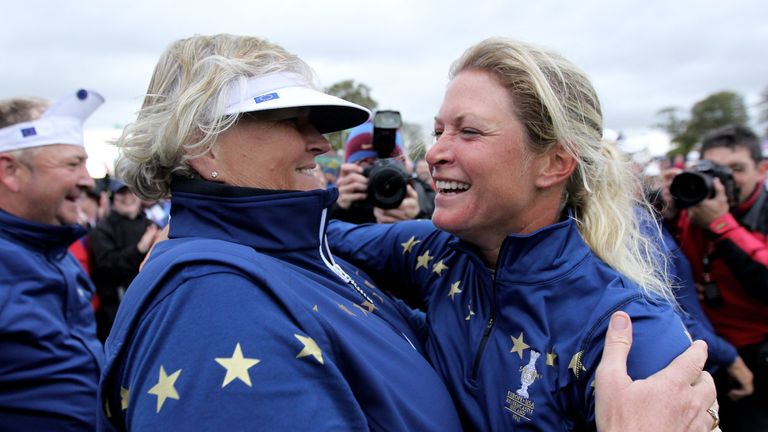 Thursday - practice day
10am: A friend who works in TV drops by the media centre. "So," he says, "the Americans are a dead cert, right?" I point him in the direction of my preview. I started writing it in my head the minute the 2009 match ended, since when I have interviewed the captain Alison Nicholas, her vice-captain Annika Sorenstam and got to know half the team fairly well. Nothing has dissuaded me from the notion that the bookies have it wrong. The Americans have to be favourites, but I'm convinced Europe can win.
3pm: With the pre-match chat concluded, three things strike me: 1. The five European rookies look genuinely comfortable and confident. 2. Suzann Pettersen says this is the best European team she has played in. Does that explain why she looks less flustered than in 2009, when she seemed to be carrying the weight of the team on her shoulders? And 3. The Americans continue to insist they're not favourites, enhancing my belief that they are vulnerable. They're desperate to be the chasers not the chased.
4pm: At the opening ceremony there is debate about the European outfits. Some just don't like the purple and green blazers, others suggest Wimbledon line judges, I'm thinking St Trinian's.
Friday morning - foursomes
7.30am: I'm rooming with Lady Golfer's Mark Townsend this week and we hit the first tee together. I've got a yellow jacket, he's got a blue one. We look like a pair of (very bad) cheerleaders.
7.40am: The starter (an elderly Irish lady) has a disaster on the first tee. She struggles with just about every name but the third match is her downfall, haplessly stumbling her way through Azahara Munoz. Beside me Mark says, "I'm surprised she didn't just say, 'The Spanish girl.'"
8.15am: With Europe down in the first three matches, a woman next to me starts to panic. "Don't worry," I say, "there's actually quite a long way to go." Meanwhile, a remarkable Bruce Critchley lookalike is doing a conga in the stands on the first tee. On his own.
8.40am: Behind the third green I bump into Jeff Collington, who maps the LET courses. We stand behind Mel Reid as she lines up a birdie putt. "Moves left to right," Jeff whispers. It does exactly that, the putt drops, Reid thumps the air and the fightback has started. "Morning Matt," Reid says as she strides to the third tee, not needing to add (her face does that for her) that she is loving every second of the experience.
12.30pm: At one point the home team led in every match on the course, but if we've learned one thing in the recent past it is that Paula Creamer is a Solheim Cup phenomenon. Faced with a series of tricky hole-saving putts she nervelessly makes every one. She and Brittany Lincicome complete a superb fightback on the final hole leaving their opponents, Reid and Karen Stupples, devastated. Suzann Pettersen ends the session with a superb 10-foot birdie which leaves the score 2-2 and causes captain Nicholas to roar her approval.
Friday afternoon fourballs
12.45pm: First tee. Irish golfing character Roddy Carr steps in to replace the dodgy starter and promptly introduces "Morgan Pretzel and Paula Kramer." Meanwhile, in the background, the Bruce Critchley lookalike has found someone (well, something) to dance with. It's a flag.
1.15pm: The players are enjoying the first tee, but none has looked more at home than Sophie Gustafson (who is playing with Caroline Hedwall). She stands tall and radiant, soaking up the adulation with a wide and wonderful smile. In her last nine starts in Ireland she has five wins and two seconds. The girl loves Ireland and Ireland loves her. This feels like an extra special week for her, one in which she also conducted her first television interview (her reticence is due to a stutter). YouTube it. You won't regret it.
4pm: Playing with rookie Ryann O'Toole, Christina Kim cracks jokes, chats to children and interacts with anyone. It's why the fans love her (and why if they didn't before, they soon do). It's not the image some of the media like to portray of her in this event, but it's true.
6pm: Creamer spent the morning holing out for great pars and spends the afternoon making birdie after birdie. Admittedly she steps off more putts than I've stepped off trains, but it is comfortably one of the finest displays of determination and putting I've seen.
6.15pm: The home team has had a good day but the Americans are proud and determined; Europe lead 4.5-3.5.
7pm: In May I played in a Media Solheim Cup match. My opponent, a New York radio host, just asked me to guest on her show. Before we went on air she looked at my media pass. "I just want check what your role is this week," she said, swiftly reminding herself what my name is at the same time. Awkward? No, I'm an idiot - I love stuff like that.
Saturday morning foursomes
7.40am: Third time lucky: Irish broadcaster Shane O'Donoghue takes over the starter's duties and immediately brings the first tee to life. Pretend Bruce Critchley is in raptures. The Americans have retained two foursomes partnerships from yesterday (the two that lost).
7.50am: Christel Boeljon, playing with Karen Stupples, hits her first shot of the week. She was the only player not to play yesterday and looked a little lonely at times. She smashes her tee shot down the middle and two proud Dutch journalists follow her down the fairway.
8.10am: Azahara Munoz and Catriona Matthew against Paula Creamer and Cristie Kerr; it's a fascinating continental culture clash: European reserve versus American outward confidence.
11.30am: Hedwall and Gustafson are officially Swedish Super Troupers. In the last 24 hours they've needed just 27 holes to defeat two US partnerships 5&4 and 6&5.
Noon: All four players in the continental culture clash are aware that their match is going to be a mood swinger. It's the only match currently on the course and Europe leads by two points. The atmosphere around the par-three 16th green is the most electric of the week so far but the Euros are one down; Matthew finds the back of the green, Munoz has a putt for a winning birdie. I'm sat with Mel Reid's mum. "She knows this putt," I say. "How do you know that?!" she asks. "I played with her in the Irish Open Pro-am, she was practising from this angle when I left the green." Munoz drains it, Mel Reid's mum hugs me and screams, "Great shout!" It's all a bit surreal.
1pm: Europe loses the 17th but wins the 18th amid slightly chaotic scenes. I overhear an American voice. "Oh Lordy," it says, "The Irish are such lovely people, but, geez, they really don't understand crowd control." Europe leads 7-5.
Saturday afternoon fourballs
2pm: I note on Twitter that the two losing foursome pairings that the US retained both lost again today. It is greeted with some cocky European tweets. It pulls me up - there's a long way to go. Two points isn't much.
3.30pm: Twitter is also alive with love for Laura Davies. She needs one more point to become the highest scoring player in the match's history. Her partner Reid is still seeking her first point. As history beckons, I head out to watch them.
3.40pm: The 12th is a par-five. Davies & Reid both find the fairway, leaving approaches which vaguely resemble a reverse version of the tee shot at the Belfry's famous 10th. Davies is closer but elects to play first and knocks her ball to about 20-feet for eagle. It gives Reid a free go from further back. She lashes it to three feet and the crowd go berserk. It's like the sorcerer and her apprentice. Or Seve & Olly.
4.30pm: Davies completes victory (and history) her way on the 15th: driver from the tee off a trademark molehill, driver off the deck from a downhill lie and then she almost holes a 40-foot eagle putt. She is then brilliantly, typically down-to-earth with the press. Was she happy to be rested from the foursomes, she is asked. "Not really," she deadpans. "I'd rather have played the lot and be knackered."
5pm: US captain's pick Ryann O'Toole has been mocked since selection, but she has stood out for two reasons this week: her non-stop smile and excellent golf. As she completes a second win the veteran Irish caddie Colin Byrne (soon to link up with Tom Lewis) tells me he is seriously impressed with her swing.
6pm: The English win is all Europe can muster in the afternoon as the Americans launch a fightback. The home team led in all four matches in three of the four sessions but it was illusory control; the match is tied at eight points apiece.
8pm: We snatch the singles draw seconds before jumping on the final shuttle bus back to the hotel. Mark, myself and the BBC's Iain Carter pore over the match-ups in the dark then look at each other. "Europe can win this," we agree.
Sunday morning
8am: I wake to blue sky, the discovery that my only clean shirt is blue and the sound of Mark - who hates the song with a passion - singing "Bring back my Solheim to me". It's fate. It's got to be. Right?
10am: On the first tee I meet Sandra Gal's Lederhosen Army - 15 friends of Roy Clarke, her caddie from Cork. The Lederhosen shorts don't look porous to me. I idly wonder if that will be a good, or a bad, thing when the predicted downpour arrives.
10.10am: Up first: Paula Creamer (played three Solheim singles, won three) versus Catriona Matthew (played five, won four). What a way to kick things off. Bruce Critchley is beside himself (and not just himself; he's made some friends). If Shane O'Donoghue was to announce "Ladies and gentlemen, this match will set the tone for the rest of the day" it would (obviously) be inappropriate. But it would also be true.
10.40am: Creamer has a makeable 10-foot birdie putt on the second. But first Matthew has a snakeing 40-footer of her own. It goes one way, then the other and then the other way again. I know this because Mark and I are sat right behind it and punch the air as it drops. Creamer misses. The Scot goes one up.
11am: Matthew knocks her approach to the third stiff, Creamer doesn't and cannot equal the birdie. Matthew two up thru three. The tone is being set.
11.10am: I run back to the first tee. Bear in mind I have just left the first match walking to the fourth green. And yet I pass a lady in a chair behind the 18th green. She's got one hell of a wait for some action.
11.30am: I arrive back at the media centre to see Cristie Kerr in tears on TV. Her wrist is damaged, she cannot play and has to concede her match to Karen Stupples.
Noon: There are three big stories unfolding. 1. US captain Rosie Jones says, "We have worried about Cristie since Friday. The wrist is fatigued. She's been on anti-inflammatories." The initial sympathy for Kerr's plight therefore turns to bafflement. Why, given her condition, did she play all five matches? 2. Catriona Matthew is on fire (four up thru seven). And 3. It is raining so hard I'm half expecting the Guinness Brewery to float through the new water feature outside the media centre.
1pm: Play is suspended. Mark and I grab some lunch and then wander around outside the clubhouse, waiting for the players to emerge. I'm often dubious of making guesses about body language but when the Europeans appear they seem strikingly relaxed. Mel Reid talks happily to Sky reporters, Sophie Gustafson has a big smile and Azahara Munoz, seeing me dancing up and down to keep warm (and somewhat to my horror), joins in with a laugh. The Americans (with the grinning exceptions of O'Toole and Kim) emerge with hands in pockets and chins down.
2.30pm: In my preview I wrote, "Creamer is a Solheim Cup whirlwind the Europeans don't know how to stop." Scrap that. Catriona Matthew just sorted it. She wins 6&5 and then celebrates in brilliant fashion - with a sort of embarrassed-to-be-excited flap of the arm.
3pm: Gustafson completes her fourth win giving her a 100% record for the week. "This is the best I have ever played in the Solheim Cup and I'm very proud," she says, before adding a Sophie flourish: "Yeah, it was p*ssing it down."
4pm: Play is suspended because of a threat of lightning. At the first delay Europe "led" 7.5-5.5. Now they "lead" 6.5-5.5. I argue that it is a difference of just one point but I cannot deny the feeling around the place, which is that the tide has changed.
5pm: The klaxon sounds and we're off again. Europe leads 11-10. If the matches stay the same as they are, Europe will squeak it ...
5.15pm: Davies and Reid falter on the final hole - big blows for Europe.
5.25pm: Europe badly needs blue on the scoreboard and the quietly determined Christel Boeljon provides it. Her approach to the final green is assured and majestic, earning her a first Solheim Cup point.
5.30pm: Wie goes one up on Pettersen on the 15th. It is 12.5 points each with three matches left on the course. Europe needs two points to regain the Solheim Cup but is down in two matches and all square in the third. The home team needs some brave souls to regain this trophy. It's a time for heroes.......
Click here for an in-depth review of the finale, complete with insight from one of the stars, Azahara Munoz