Butch Harmon hails Henrik Stenson's win at the Tour Championship
Resurgent Henrik Stenson is fully deserving of his Tour Championship jackpot, says Butch Harmon.
Last Updated: 23/09/13 11:06am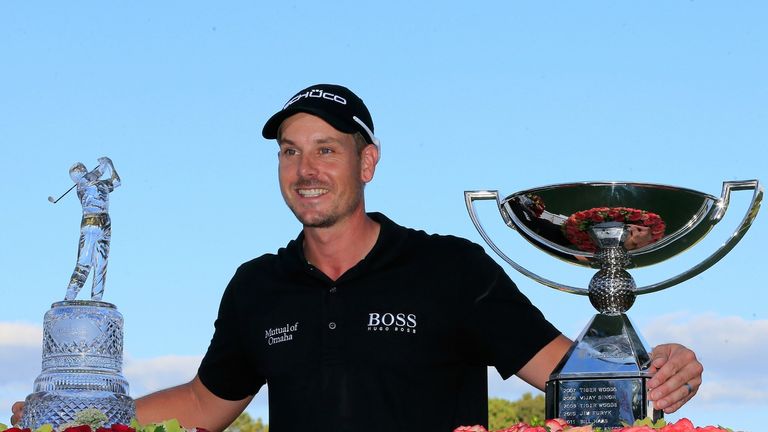 The 37-year-old had been languishing way down the world rankings following a dismal run of form but caught fire to become the first European winner of both the FexEx Cup and the Tour Championship.
Harmon told Sky Sports: "You have to take your hat off to him. He led wire to wire. He started on fire and he stayed on fire all week long. He didn't have to press - he just had to go out there and keep the ball in play.
"He played a beautiful front nine, never really putting himself in any problems and did exactly what he had to do on the back nine. We thought some guys would come up the leaderboard and they did, but Henrik Stenson is definitely the $10m dollar man!
"The joy I got out of this week was watching how Stenson played from tee to green. His iron play, he hit more greens than anybody in the field, drove the ball pretty well and putted beautifully. I just loved the way the man played. He won this thing from day one."
Challengers
It proved a nervy final round in Atlanta, as young gun Jordan Spieth threatened to dampen Stenson's celebration with some scintillating golf of his own - briefly slashing the lead to a single shot before fading away at the penultimate hole.
Harmon said of the youngster: "Jordan Spieth, for me, was unbelievable. If he doesn't bogey the 17th hole, who knows what's going to happen? He played beautifully. Webb Simpson came in with a very low score. Dustin Johnson was there until the 17th hole. Steve Stricker came roaring up.
"As for Spieth, I've known about this kid all year long. It's unbelievable how good he is. He's unflappable. He's an old school golfer. He doesn't have the new age swing - he just goes at it. He has a tremendous amount of savvy for a 20-year-old kid.
"I watched him in a practice round with Phil Mickelson and I watched him take Mickelson's money and he didn't have a problem doing it so I knew he was going to play pretty good. We're going to hear a lot from Jordan Spieth - that's for sure.
"He needs to play around the world. To be a great champion, all these great players have figured out that you've got to win all around the world and we're going to be hearing from Jordan Spieth forever."
Nerve
Amid the thrilling charges of home favourites such as Spieth, Johnson and Stricker, Stenson's measured approach to the increasing pressure was what impressed Harmon most and made him a deserving victor in what proved a highly enjoyable tournament for all concerned.
Harmon added: "It was a fantastic finish but in the end, Stenson just did what he had to do. He calmed himself down, made the putts that he had to, and he's our champion. He's a great guy, a funny guy. He's great to be around and now he's a great champion.
"He's such a hard worker and he had to work that hard to get up to where he is. It's unbelievable to see the golf he played this week and so I have to congratulate his coach, Pete Cowen.
"We were over there where they sign their cards and have interviews, and every one of them went up to the top to see the FedEx people - it says a lot for the players and it says a lot for the sponsors."