2002 - McGinley clinches it
Torrance the Belfry hero again as McGinley holes winning putt
Last Updated: 28/08/12 9:44pm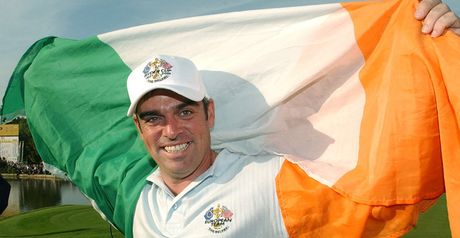 A joyous McGinley flies the flag
The traditional Ryder Cup cycle was interrupted by the tragic events in New York on 11 September 2001 and the match was consequently delayed by 12 months.
EUROPE 15½ USA 12½
Europe
Thomas Bjorn
Darren Clarke
Niclas Fasth
Pierre Fulke
Sergio Garcia
Padraig Harrington
Bernhard Langer
Paul McGinley
Colin Montgomerie
Jesper Parnevik
Phillip Price
Lee Westwood
Captain: Sam Torrance
USA
Paul Azinger
Mark Calcavecchia
Stewart Cink
David Duval
Jim Furyk
Scott Hoch
Davis Love III
Phil Mickelson
Hal Sutton
David Toms
Scott Verplank
Tiger Woods
Captain: Curtis Strange
There was much speculation about the make-up of the two teams - it focused on those players who had lost form and those who had subsequently found better form, but in the end the line-ups remained unchanged.
A further controversy fuelled the pre-match press conferences when Tiger Woods was asked if he would prefer to win the American Express Championship or the Ryder Cup. In a tactless reference to the prize fund, he answered that he could think of "a million reasons" why he preferred the former.
Did that furore affect his performance? Who knows but he looked a shaken golfer on the first day and endured a dreadful time, losing both of his matches.
Europe, on the other hand, had an excellent Friday, winning the foursomes 3-1 before being pegged back a point in the afternoon fourballs.
The home side was led by the formidable partnership of Sergio Garcia and Lee Westwood who won two points on day one and added a third point on the second day, but the Americans, captained by Curtis Strange, were a tough outfit and the match was tied 8-8 ahead of the singles.
That evening the two captains read out their roster of singles and those few moments have gone down in Ryder Cup history. European captain Sam Torrance loaded his list from top to bottom, Strange did the opposite.
Sam has thrown me a curve ball
"I think," a startled Strange said in answer to some aggressive questions from the American media, "that Sam has thrown me a curve ball."
The die was set - no-one could look at the singles matches and not believe Europe had an advantage.
Next morning the crowds went berserk, roaring Colin Montgomerie to the first tee and all the way to the green where he holed for a winning birdie - it set in motion a stunning European attack.
Montgomerie duly defeated Scott Hoch 5&4 before Padraig Harrington, Bernhard Langer and Thomas Bjorn quickly added points to give the European a great position of strength.
But although the focus had thus far been on Europe's stars, it was now time for the out-of-form and the journeymen to step forward.
First of all Niclas Fasth managed to halve his match with a pumped up Paul Azinger and soon afterwards Phillip Price pulled off an astonishing 3&2 defeat of Phil Mickelson.
Paul McGinley found himself in the role of potential hero as he walked up the 18th hole all square with Jim Furyk with half a point required for the win. Furyk found a greenside bunker, McGinley the greenside rough.
"I walked across the bridge to the green and Sam told me 'Up and down for the Ryder Cup'," said McGinley afterwards.
He chipped to eight feet and then prepared to hit the putt with the entire golf world watching. "I was able to focus on my objective, which was just to get it in the hole. It was quite a big break, about two to three balls outside left and I just hit one of those putts that the minute it left the putter head it was never going anywhere else. It went right in the middle of the hole at the perfect speed and I'll have that memory for ever.
"I didn't get drunk that night," insisted McGinley. "My wife gave me great advice. She said you have had a great day don't ruin it by getting drunk and forgetting about it. Enjoy your night. I had a good few drinks but I made sure I didn't get drunk and I savoured every minute of it."