Augusta did not disappoint again as Adam Scott and Angel Cabrera's play-off battle was as epic as anything seen in the first major of the season, which was jam-packed with talking points from start to finish.
In the final analysis, all that really matters is that The Masters came to life on the final hole, with Scott and Cabrera both finding a birdie on their 72nd holes to force a play-off, before the Australian just edged it on the second play-off hole.
But even as Scott was slipping on his Green Jacket, the questions that have arisen from the first major of 2013 range from making history, to the appliance of the rules - the very foundation on which golf is proudly built.
So let's look at the major talking points from the 2013 Masters.
Aussie rules
Australia had never had a Masters winner, Greg Norman famously came agonisingly close but the Green Jacket had never been Down Under. This was to be their year though and the Aussies launched the three-pronged attack on the title with Jason Day and Marc Leishman also finishing in the top four and any one of them or Scott could have taken it in the end.
Leishman was a surprise early leader, but he did not just fade into the background as expected, while Day stood on the 16th tee with a two-shot lead before Scott advanced and Day lost focus with back-to-back bogeys. The win was not only a good personal triumph for Scott but, with his two compatriots, three Aussies in the top four it also bodes well for Australian golf.
Redemption
On the personal front, it seems as though golf is one of those sports where losing may not altogether be a bad thing, it's how you lose that counts. Scott blew a four-shot lead in the Open at Lytham last year, but he took it brilliantly doing every interview with poise and grace after his collapse.
Similar to Rory McIlroy at The Masters, Scott seems to have grown immensely from that experience, and even when his hopes were dashed by Cabrera first time, he showed a barrel load of guts to dig out the win in the play-off. The Augusta fans also seemed to be very much behind him, having been in and around the major hunt for the last few years and after Lytham, the golfing world likes a story of redemption and they certainly got one in Adam Scott.
Rules are rules
I'm glad the Masters had a show-stopping finish to avoid the post-event coverage being totally swamped with Tiger Woods and Rule 33 - possibly now the most famous rule in golf. Tiger should have known the rule on that ill-fated drop, that's the first thing that needs to be said, but so should have his caddie and the accompanying rules official.
Woods obviously did not know he had done wrong, neither did Masters officials who cleared the incident on first viewing and only later found a breach after Woods himself spoke out in his post-round interview. Common sense prevailed, in my opinion, but it's also probably a good thing he did not go on to win another Masters.
In the end the two-shot penalty may well have cost Woods his chance - justice some might say for him not being disqualified from the event - either way it was bad for golf all round.
Long putters
If there was one negative for Scott's fantastic victory, it was that it created a 'Long Putter Slam' with the Masters the last of golf's big events to be won by a player wielding a long putter. It also means that three of the four current major titles are in the hands of players who wield a long putter.
This is yet again going to stir the pot on the impending ban on anchored putting strokes and this sadly is just not going to go away with still a split in thinking between the European and PGA Tours on the matter. The rule makers on both sides of the Atlantic were probably the only ones hoping Scott would miss that final putt on the 10th.
Guan week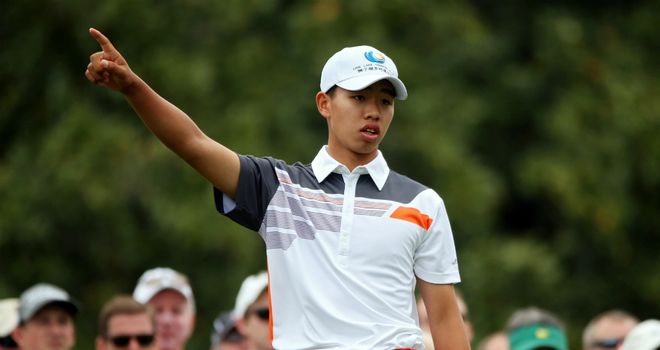 What a week for Chinese teenager Tianlang Guan! While most 14-year-olds would struggle to keep concentration enough to play four rounds of Tiger Woods on their computers, this young man made the cut, dealt with a one-shot penalty and still managed to not finish last.
The manner in which he took his harsh penalty for slow play, when a vast portion of the field took over five hours to get round, was immensely impressive, as was the way he approached Tiger Woods to play a practice round - and remembering to bring along his school homework to do during the week!
Euro moan
It may just be nothing, but it also may be a concern that none of Europe's big guns could really get involved in the Masters shake-up on the final day, despite some decent displays here and there, including a first-round 66 from Sergio Garcia.
Lee Westwood finished six shots back with Garcia but could not get into the mix, while Rose, McIlroy and Donald all finished well down the field - as debutant Thorbjorn Olesen finished as top European after a fine final round - he's one definitely worth watching for the future.
Should Tiger Woods have been disqualified from the Masters?