Rose on the rise
Rob Lee sees no reason why Justin Rose can't win the Masters - and the same goes for Tiger Woods.
Last Updated: 30/03/12 2:15pm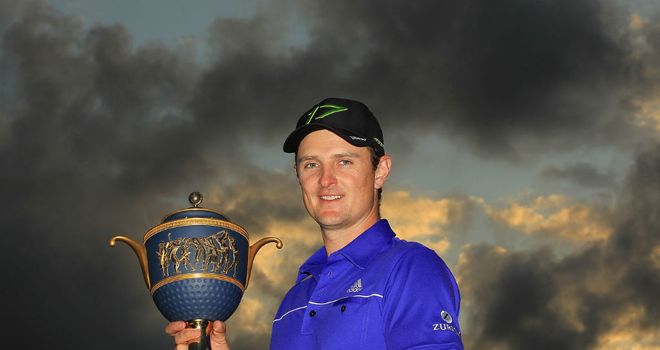 When people talk about the top English golfers they inevitably talk about Luke Donald and Lee Westwood - and Ian Poulter sticks his head up above the parapet now and then.
But you've got to take notice of Justin Rose now.
Last weekend at Doral the top 50 players in the world were all competing for the WGC-Cadillac Championship and at the end of the week he was the top man.
This was his fourth PGA Tour win, including a FedEx Cup series win at the BMW Championship last year and the 2010 Memorial Tournament at Muirfield. When you throw in a World Golf Championship that's a pretty tasty CV.
It's not easy to play the last few holes at Doral when you're under pressure and we saw the likes of Keegan Bradley and Bubba Watson flounder on the final day. The only guy that kept it together was Justin.
He's still an improving player and last week was a big step forward for him. He's not a flair player, he's very methodical, and I've always felt that everything had to be right for him to perform well. Nothing is left to chance and if things go slightly off-kilter then it doesn't seem to happen for him.
However, at the Honda Classic two weeks ago he got out of shape a little bit in the third round, yet he struggled around and stayed in there. He didn't have a great day on the golf course, but he didn't fall away like he might have done in the past and at the end of the week he finished tied for fifth.
He then followed it up with a WGC win the very next week and that's a fairly significant change in his game. He can keep it going when things aren't perfect and churn out a score. That's what all the top players have done over the years.
He's in his early thirties, which is golfing prime time, and if he is to win a major then it's likely to come in the next few years.
He's back into the world top 10 now and if you take confidence from good performances then he'll go to Augusta next month feeling pretty good. He's performed well at the Masters before (he was fifth in 2007) and there's no reason why he won't fancy his chances this year.
He's got the experience and the wins behind him to be a contender now. When you're on the back nine of a tournament and the doubts start to creep in, there's nothing like the knowledge that you've beaten a top-quality field. It proves to yourself that you can do it.
Quite simply, if he gets into contention at the Masters this time round, he'll be better equipped.
He's also given himself a wonderful opportunity to make the Ryder Cup team. There's too much golf to be played to suggest that he's a dead cert - things can change very quickly - but he's doing exactly what he needs to do.
If he continues on this curve he will be in the European side - and I'd like to see him make it. It's being played at an American venue and as somebody who has won on lots of American courses, Rose would be a great asset. He'll only have himself to blame if he doesn't make it.
Everything's going very well. He's second in the Race to Dubai after playing in just two events and he's in the top 10 of the FedEx Cup standings.
It's been a perfect start to the year.
Tiger relief
The other headline story at the Cadillac Championship was the withdrawal of Tiger Woods through injury.
I'd be concerned if it was a reoccurrence of his knee injury, but he says it's an Achilles problem, so that's not quite as worrying for his career long-term.
He's said he's hoping to play at Bay Hill next week and that's a huge relief because it will be great to see Tiger at the Masters. He brings so much to the show.
Remember, he's finished fourth on his last two outings at Augusta and on each occasion he had hardly any preparation. This time he's had a run of tournaments to prepare, including a career-low final round at the Honda, and his game is definitely improving.
If Tiger tees it up at Augusta then despite this setback he will definitely have a chance of winning. I had a bet on him several months ago to win the Masters at 10/1 and I'm still very happy with that.
And I still don't see why he can't catch Jack Nicklaus's record of 18 majors either. Remember, Ben Hogan was hit by a bus when he was 36 but he came back from that and won six majors.
In that context, Tiger's strained Achilles tendon doesn't seem quite so serious...
Rob's Sky Bet tips
The PGA Tour moves to Copperhead for the Transitions Championship, which is a great golf course with a couple of brutal holes. I'm going for Charl Schwartzel at 14/1 because his iron play is phenomenal and that could be important around there.
The European Tour hits mainland Europe for the first time this season at the Open de Andalucia and there's a great chance for a lot of the players who've come through qualifying school to impress. However, I'm going for Robert Rock at 22/1 who has flown in from America and is bound to be jet-lagged. He's got form for playing well under those conditions!