Masters winner Bubba Watson proves a small team brings success, says Ewen Murray
Golfers should look at Bubba Watson and stop over-complicating their preparations, says Ewen Murray.
Last Updated: 09/05/14 1:43pm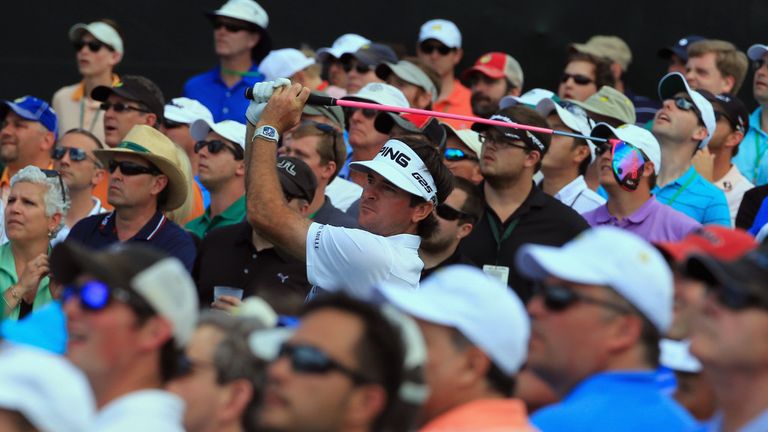 It's where the golfing aficionados meet to welcome the new season, it's where the worlds best players arrive with their games in the best possible shape and it's where we say goodbye to the harsh winter and hello to the long warm summer.
This year was not the best tournament. Bubba Watson won magnificently as well as professionally but the chasing pack lacked the Augusta experience to take the tournament down to the wire and too many if the big names were well below their best.
All credit to Sweden's Jonas Blixt and the hugely impressive, Jordan Spieth. They pretty much gave their all and have much to be proud of. Their time may well come in the near future.
My own highlight of the week was to be honoured to have the company of six time winner, Jack Nicklaus in the commentary box on both Thursday and Sunday.
Jack's insight and comments were what you would expect from him. What struck me was his simplistic words on how he became a six-time Master with 12 other majors. Many players, too many in fact, talk about the team they have built around them. The dieticians, the coaches, both short and long game, the physical trainers, the mind guru's, the agents and goodness knows what else.
Jack mentioned his lifelong coach Jack Grout, a man he would meet up with on two occasions throughout the season. He talked about his yardage book, he was the first player to use this, and the warmth and the company of his family. No hangers on, just those closest to him. Them and his belief, talent and knowledge would be his armoury.
The players who failed to make the cut on the Friday evening was like a who's who of golf. Major winners, world golf champions, players champions, past champions, many of whom are in the top 30 in the world rankings. I'm beginning to think so much is done for so many players, they can no longer do the simple, yet very important things for themselves. Not all are in that category, but the larger percentage are.
Frustration
One of the most refreshing players is Ian Poulter. Ian deserves all the success that has come his way. He is a hard worker, a realist and a player who has utilised the best if his gifts and extracted the most from his career. Yet inexplicably, after a third round of 70, he wanted to retire to a room with padded walls to get the frustration out of his system. 70? At Augusta? Frustration? Time to get real, I think.
His reaction to that excellent two-under par round on a difficult Saturday was wrong for so many reasons. It was an impressive 18 holes and yes, like all rounds, could have been better, but after his savaging of a good day, it was no real surprise Sunday produced an average round despite being close to the top of his form.
There are no secrets around the corner. There is only one winner at the end of it all and the man who plays well and controls his mind and emotion will succeed. If there ever was a secret to success, Jack Nicklaus had it. His circle was small, he was comfortable with that and it proved to be a supremely effective formula.
The new Masters champion has never had a coach. His circle is similar to Nicklaus. His wife and adopted son Caleb is his world. His golf is played through feel. He is an underrated player who knows where the club face is and he knows what angle to attack the ball.
Bubba Watson will win more often than many others who have greater technique. He is at ease with his lot and like Nicklaus, the lack of others around him frees up time and space for himself.
Started
In Jordan Spieth, America has a wonderful prospect for the future. His maturity at 20 years of age is admirable. He lambasted his own behaviour during defeat to Ernie Els in the Accenture Match Play earlier this year and I have no doubt he will look back on last week and see where improvements can be made.
Here is a man who dropped out of college to gamble on getting into tournaments via the dreaded Monday qualifying route where one or two places are available.
His sister is disabled and with part of his earnings he has started a charity that will help many who have the same troubles in life. His whole career is ahead of him and I have no hesitation in saying he will make a great success of it. He is a very impressive individual with his feet firmly on the ground.
Jonas Blixt is a member of the European Tour and therefor qualifies for Ryder Cup selection. Another of my co-commentators last week, Paul McGinley, will have been impressed the way he stuck to his task down the stretch and seemed unfazed by the pressure on the back nine at Augusta. Jonas has his base by Jacksonville Beach just a mile or two from the TPC at Sawgrass and another top performance at the Players Championship in three weeks' time will give European Captain McGinley some food for thought.
I enjoyed Paul's company and he is evolving into an excellent commentator. Right now he is focused on doing the best possible job for his team. He is a deep thinker, thoughtful analyser and I have no doubt he will do a superb job at the helm for Europe.
Tiger Woods will miss out on defending the Players as he continues his convalescence after back surgery and it's doubtful he will be at Pinehurst for the US Open.
He was missed last week. We have become so used to seeing him challenging for majors and hopefully the procedure he underwent in Utah last month will be a complete success and his recovery will be a speedy one.