Masters is the greatest golfing show on Earth, says Ewen Murray
Ewen Murray savours the finest moments from 'the greatest golfing show on Earth' - the Masters.
Last Updated: 03/04/13 1:29pm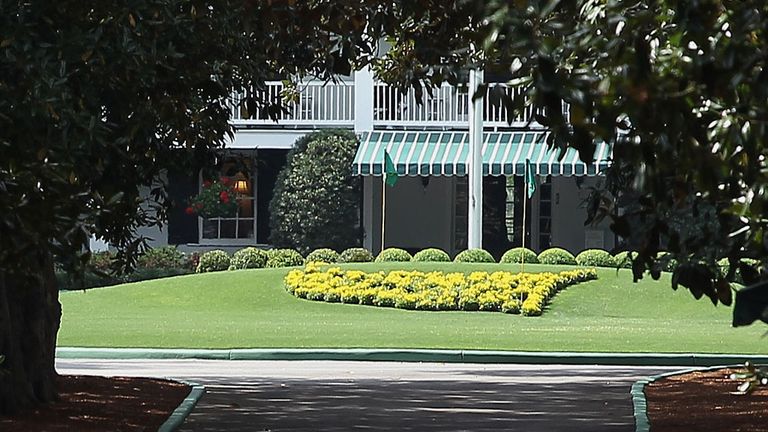 Just the mention of this golfing spectacular causes the hairs on the neck to rise.
How to watch the Masters.
In this country, we swoon over the "Old Lady" at St Andrews and for those who have been fortunate to travel, there is Pebble Beach, Valderamma and many other famed and fabled courses to enjoy. But then there is Augusta: majestic and unique.
Bush Field is Augusta's regional airport and after a short drive past some less-than-salubrious motels and fast food chains, the gates by the top end of Washington Road open to reveal a whole new world.
A 330-yard trip up Magnolia Lane takes you to the under-stated clubhouse. On the other side of that, the view from the top of the hill is one over a holy acreage that in a bygone day was Fruitlands Nurseries. Today, it is one of the most recognised scenes in sport.
Many of the trees and plants remain from the early 1930s when Alistair McKenzie and Bobby Jones deemed that this would be the site for a new course, a new tournament and a new dawn for professional golf.
Each hole would be named after various pieces of flora and when I played there for the first time, I imagined it must be like playing golf in the Garden of Eden.
Feat
Since the first tournament in 1934, there have been many moments to savour.
The following year produced "the shot that was heard around the world" - Gene Sarazen's albatross over the water at Firethorn. There were no scoreboards in those days and a local volunteer raced up the hill after a tumultuous roar to give the news that "Mr. Gene" had holed his second shot at 15. He was dispatched back down the hill with no-one believing the tale.
For the second year running, Craig Wood had to settle for second place, but he would get his green jacket six years later. Sarazen became the first person to complete The Grand Slam, one of only five men to achieve that feat.
The Masters first came into our living rooms in the sixties when a trio of mercurial golfers dominated Augusta. They were known as the "Big Three", Palmer, Player and Nicklaus. They would win eight of nine Masters from 1958.
Many golfers of my era were inspired by them and the majesty of Augusta, who set the standard for presenting golf courses. Much of what we enjoy today is from the sound foundations the club laid back then.
Drama
We all have our favourite moments of the tournament, although because there are so many, it's difficult to put them in order of achievement.
Gary Player's win in 1978 was enthralling. His caddie had said he needed a house and going into the final round several shots off the lead, Player said, "let's go get you that house". What followed was one if the greatest charges in golf. Home in 30 with three lip outs!
His second to 17 finished stone dead when Player said, "all we have to do is negotiate the 18th and pick up the keys". It was a magical era and the cast was magnificent.
Drama follows The Masters. In 1968, a year after winning the Open at Hoylake, Argentine gentleman, Roberto De Vicenzo suffered the heartbreak of signing for a wrong score.
He signed for a three at 17, when it should have been a par 4. Tommy Aaron was marking his card and both men were inconsolable when they realised their mistake.
Roberto, loveable and gifted, spoke little English, but managed to utter, "What a stupid I am". Bob Goalby was the benefactor.
In 1980 we saw the arrival from Spain of Severiano Ballesteros Sota with a swashbuckling style that he was to patent; it was a new beginning for European golf. Two wins in four years would sit nicely alongside his three Claret Jugs.
Many will remember the '86 version when Jack Nicklaus at 46 years of age staged one final heroic effort to win his sixth Masters. I can still hear the roars today as he birdied the 10th, 11th, and 13th before an eagle at 15. And I can still see him walking up the 72nd hole with his son Steve by his side and two-putting from long range to set the target - a target Tom Kite and Greg Norman would just fail to match.
Memorable
In 1988, our own Sandy Lyle triumphed after a superb seven iron bunker shot at 18. For those who saw it they will remember the "jig" on the final green as Sandy added the Masters to the Open won at Royal St. George's three years earlier.
Nick Faldo would enjoy his considerable success in the years ahead and Welshman Ian Woosnam, Germany's Bernhard Langer and Spaniard Jose Maria Olazabal continued to give Europe much to cheer.
Nick's last win will be remembered more for the collapse of Greg Norman. Six shots ahead through 54 holes, one golfing disaster after another saw Norman's chances ebb slowly away. To this day, no Australian has won at Augusta.
My most memorable moment was at the 2005 Masters when Tiger Woods played the most outrageous chip from behind the 16th green. Tiger had produced amazing shots to win several tournaments, but that day, he surpassed all that had gone on before. It was as if the world stopped for a second or two as the Nike swoosh on his ball revealed itself, seemed to smile, then theatrically disappeared.
To this day, it is the loudest roar I have heard on a golf course. It's a shot I never tire of watching, a shot of sheer genius on the biggest and most beautiful stage.
Other Masters memories will be Fred Couples' ball somehow defying gravity at the 12th, Mickelson's shot at 13 from the trees and the Larry Mize chip-in to thwart, yet again, Norman.
You will of course have your own special moments and when they happen at this tournament, you never forget them.
Perfect
And so to this year. Tiger is back in a position he is familiar with and I'm genuinely happy for him. We all make mistakes in life and, as I said a few years back, everyone deserves a second chance. Woods has taken that chance with both hands and now healthy, with his nerves repaired, he is once again thrilling us with his game.
Rory has had blips before and when doubted he is at his most dangerous. His wins in the Nation's Capital and Kiawah Island came after quiet spells. Rest assured, he won't be quiet for long.
These two set up the year's first major perfectly.
Europe have not had a winner since Olazabal's victory in 1999, so here's hoping our boys put up a good show in April.
The Sky Sports team will bring you five days live from The Masters, beginning with the Par Three competition on the Wednesday.
As always Butch Harmon, whose father Claude won the 1948 Masters, will be alongside me. Butch has the enthusiasm of a teenager and an in-depth knowledge and respect for what Augusta stands for.
Not that you needed it, but I hope these few words and memories have further whetted your appetite for the greatest golfing show on Earth.
So here's to the azaleas, the dogwoods, the immaculate fairways and greens of Augusta and the roars that follow excellence from the games finest players.
From highly-privileged positions, we look forward to bringing you The Masters.