Woods apologises
American admits poor record on the par fives has proved costly
Last Updated: 07/04/12 10:39pm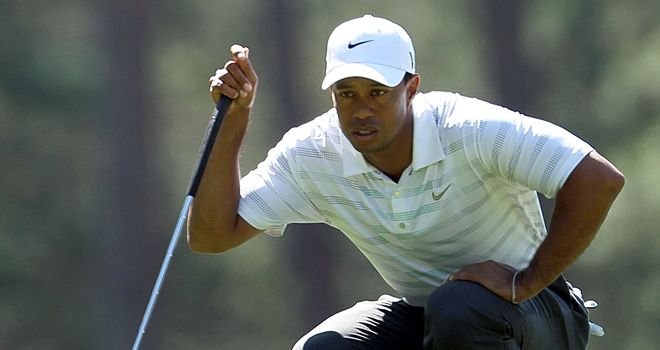 Tiger Woods: frustrated by his poor shot-making
Tiger Woods has apologised for the club-kicking and cursing that soured his second-round 75 at Augusta.
The former world number one is virtually out of contention for a fifth Green Jacket after he remained three over par with a 72 on Saturday, but the questions then came about the way he reacted to hitting into sand on the short 16th the round before.
Woods, who angrily kicked his club away, said: "I certainly heard that people didn't like me kicking the club, but I didn't like it either. I hit it right in the bunker and didn't feel good on my toe either."
There had also been some audible cursing and on that he added: "Certainly I'm frustrated at times and I apologise if I offended anybody by that.
"But I've hit some bad shots and it's certainly frustrating at times not hitting the ball where you need to hit it."
The four-time champion still gives himself a chance, but said: "I'm so far back I definitely need help from the guys - and a spectacular final round."
His day's work promised to be so much better when he birdied the third and fourth, but he then bogeyed the short sixth for the second day running and dropped another shot when he went long on the ninth.
Tricky
The back nine saw nine successive pars, but he almost certainly needed far more and on the 510-yard 13th - the best eagle chance - he hooked his drive into Rae's Creek.
The par fives all week tell their own story for Woods. He has played 12 of them now and has had only one birdie.
"I have to take care of the par fives," he added. "I have just not got going on them. I think it (a victory) is certainly do-able, but it's a little bit tricky."
Woods sounded resigned to missing out, however, when he also said: "That's the way it goes. You can't win all the tournaments, but you can try to improve and I just need to continue with the process."