Chicago hopes
On Monday Georgie Thompson and Special Report start the countdown to the 2012 Ryder Cup...
Last Updated: 09/10/11 4:20pm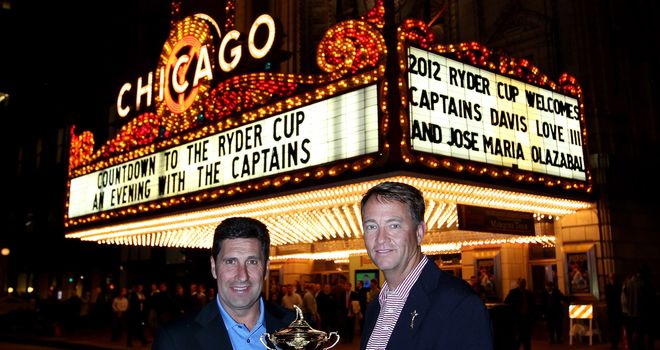 Celtic Manor, Wales, 2010. The setting for the last Ryder Cup and for an unprecented fourth day of matchplay action between Europe and the United States.
Unprecedented because Wales, which is no stranger to rainfall, saw more in the first two days of the competition than it had in the previous six months.
Si Thomas and I were sharing presenting duties from the 2010 course and had the good fortune of broadcasting from a studio. As we updated live scores on our giant Skypad we were all too frequently interrupted by the sights and sounds of rain and wind all around us. But as I say, we were in a studio.
Not so for reporter James Haddock. Poor old James had drawn the short straw, braving the elements to bring us and you a very real sense of what it was like to be in the middle of the storm. Literally.
On one of those hideous rain-affected days in Wales I recall James sounding off about an idea he'd had at breakfast for his first live hit that morning.
Drama
He planned to jump into some standing water on the first tee to give viewers an idea of how sodden the ground was.
None of us had the good sense to talk him out of it and at around about 6am James disappeared into a bog and spent the rest of a very long day worrying about the perils of trench foot.
Whatever the weather, I'll always remember Wales for being one of the most exciting live outside broadcasts I've ever been part of. The sense of drama as Graeme McDowell claimed the winning point on that final Monday to regain the Ryder Cup will take some beating.
So too will Europe. The world will be watching and the home support will be expecting the Americans to make a breakthrough next October when the Ryder Cup will be played out in Chicago.
With less than a year to go, The Special Report has visited Medinah Country Club and spoken at length to European captain Jose Maria Olazabal and his United States counterpart Davis Love III about their plans ahead of the 2012 Ryder Cup.
What does the windy city have in store? Much more than a dodgy forecast, I'm sure. James Haddock will be most pleased.