Adam Scott and Rory McIlroy are the new Woods and Mickelson, says Rob Lee
Last Updated: 01/06/14 6:19pm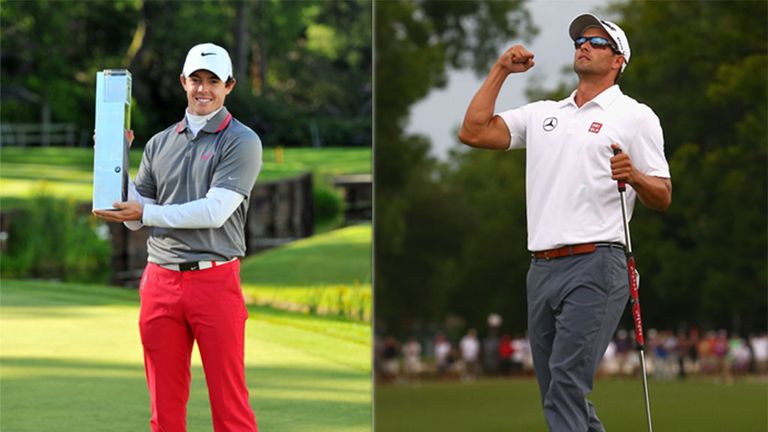 It was a very impressive performance by Rory McIlroy at last week's BMW PGA Championship.
We all know this guy has won his first two majors by eight strokes; when he's on his very best game he pulls away from the field and leaves them in his wake.
For Rory to win more, he's got to learn to win when it's not going all his way and last week was one of those. He had some stumbles and stutters along the way; he struggled badly in round two but finished strongly to break par and then he started with a double bogey on Saturday; yet still got it round in 71. Then he had a 66 in the final round; he saved himself at 16 with a really good chip and putt and then two birdies at the last two par fives to nick it by a shot.
It was an absolutely outstanding performance and with the other stuff going on in his personal life it was extra good. Golf is a game where you can mentally compartmentalise and take yourself out of yourself and what's going on in the rest of your life. It takes such an effort to concentrate for a round that you can block other things out.
Unlucky
Shane Lowry also impressed me. He'd looked more like himself the week before in Spain and continued to play well at Wentworth - he was pretty unlucky; if Rory hadn't have been back to 'Rory-form' he'd have won it. Shane will be looking forward to a really good summer now.
Thomas Bjorn shot a 62 on Thursday – that's amazing, I don't see that score around Wentworth. Having said that, the course was softer than it was in practice after the rain. A firm Wentworth is a bit of a beast and anything under 70 is a great score so the fact that it was lengthy and soft for the top players, was a good thing score wise. 
Combination
Adam Scott is a hell of a nice bloke; he's very engaging and ego-less. His marriage of convenience with Steve Williams has been a brilliant one. Steve's got the hard edge that perhaps Adam lacks; and Adam's got the game of golf from heaven. The two of them make a formidable team.
Adam bogeyed four of his first nine holes in the opening round at Colonial and had he missed the cut and Henrik Stenson played well at Wentworth – which he did at tied seventh – he'd have lost his No.1 status after just one week.
Even on the last day, if he'd have dropped one or two shots it was so tightly packed at the top he'd have dropped down eight or nine spots and finished outside the top 13. Not only did he keep himself in the top dozen but he went on and won the tournament.
Though he's playing down the status of being world No.1, he did say when he was a kid he wanted to be the best player in the world, and right now he is.
Adam Scott and Rory McIlroy are the new Tiger Woods and Phil Mickelson. Before long you're going to see these two as world No.1 and 2 in no particular order and that will be the big battle; they're head and shoulders above everyone else. Between them they're going to keep that No.1 spot for quite some time.
The Memorial Tournament is another superb tournament on another superb Nicklaus layout. Dublin, Ohio is Jack Nicklaus' neck of the woods and it's his place - much like Arnie has Bay Hill - he's got a house there and it's got the Nicklaus stamp all over it. He'll be there, like Arnie is on his own patch, to greet the winner on the last green around a golf course that's been improved. He built it knowing every blade of grass but still felt the need to tweak it throughout the year.
Picking a winner is tricky. You've got Adam Scott and Rory McIlroy straight off wins and back-to-back victories, which aren't common, but Rory's a world conqueror and I'm picking him at 15/2 outright.
I've got to go for Shane Lowry at 28/1 to win in Sweden at the Nordea Masters. He's just qualified as number one for the US Open and had a narrow miss at Wentworth. He's got to be so full of confidence right now and I fancy him to win this week big time.