BMW PGA: Rory McIlroy ready for Wentworth but old-timer Miguel Angel Jimenez in with a shot
Rob Lee hails Miguel Angel Jimenez and previews the European Tour big one, the BMW PGA Championship.
Last Updated: 21/05/14 11:31am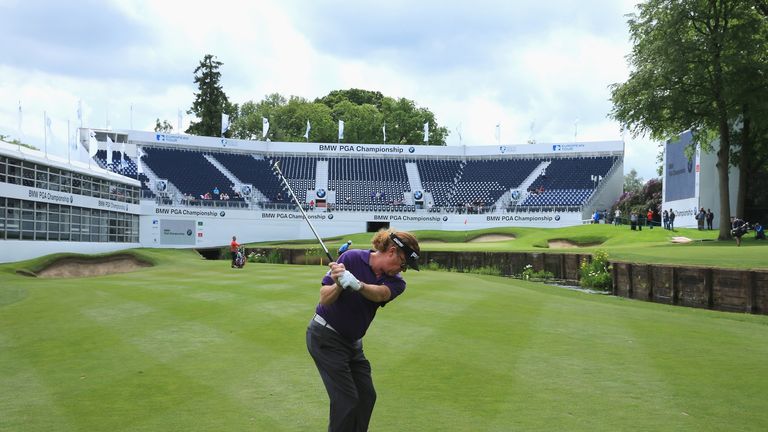 And of late we've done very well - before Matteo Manassero last year - with Luke Donald crowned champ in 2011 and 2012, and Simon Khan picking up the prize in 2010. Then of course, Colin Montgomerie picked up a hat-trick of wins in the late 90s - we can't call him English but most would consider it a home win, i.e. someone from these islands...
It's a great tournament. Now called the BMW PGA, it's always been an event just below the majors; it's the European version of the PLAYERS Championship. That's the biggest tournament outside the majors across the pond and the BMW is the same thing for us.
The most important bit about playing Wentworth is positioning your tee shot. It changed its style when Ernie Els did the big redo of all the greens and put more bunkers in; it's now a course that you've pretty much got to land it on the green.
If you go in the rough a lot this week you're not going to be a contender.
Fairytale
I was at the Open Espana last weekend and it was just fantastic to see Miguel Angel Jimenez get the win at his home event after 27 attempts. For him to win the tournament at 50-years-old was a fairytale. To get his name on the trophy with so many others great Spanish legends is remarkable.
Though he didn't really play his best stuff on the closing nine on both days, he still managed to find a way to do just enough.
Wentworth is a course that really suits him because you don't have to be super-long round there, and Miguel's long enough. He does like this golf course, and is full of confidence this week. If he's not too tired - (and according to his lifestyle guru, which is himself, has more Rioja, more cigars and more exercise, whatever that means) - he's going to be a runner and rider this week for sure.
Say what?
I heard that Lucy Li will make history later this summer after becoming the youngest qualifier for the US Women's Open at the age of 11, that's primary school age!
I'm gob-smacked; how young can you go playing this game? It's pretty remarkable, but I do hope she doesn't get run from pillar-to-post, because those years of a child's life are important.
Why not just let her enjoy playing golf on the computer for the time being?
New beginnings
My beloved Manchester United have finally revealed the worst-kept secret in football and announced Louis van Gaal as our new manager. I've read a lot of reports on the Dutchman and I must draw comparisons with Sir Alex Ferguson.
He has an air of a disciplinarian and a 'my way or the high way' attitude, which is a situation a lot of the players at the club would be used to.
I am seriously excited about his arrival at United!
Rory McIlroy is back this week; he's just made the cut on the mark in his last couple of outings in America, and has finished in the top 10 in his last four. Victory has got to be around the corner for him; the round that lets him down mustn't appear and why can't that be this week?
I think we'll see something good from him at Wentworth. He's 12/1 with Sky Bet for the BMW PGA Championship, and the Northern Irishman will have his eye on Adam Scott, who tipped Tiger Woods off his perch as the World No 1 without lifting a finger.
McIlroy, at World No 10, will know that a win here would send him flying up the rankings at the right velocity.
Over in America, we're still in Texas, and the names are out for the Crowne Plaza Invitational at Colonial. Everyone likes this course because it's old fashioned with greens close to the tees.
When I think of recent winners there's been Boo Weekley and Zach Johnson, people who really hit the ball well - it's a homage to Hogan really.
But, despite Rory's efforts, a win here for Adam Scott at 16/1 outright would say to people, 'Look, I'm No 1 and this is what I can do'.
Check out all Sky Bet's golf markets here.