The Masters: Rob Lee picks five players who would all be brilliant winners
Last Updated: 10/04/14 9:05am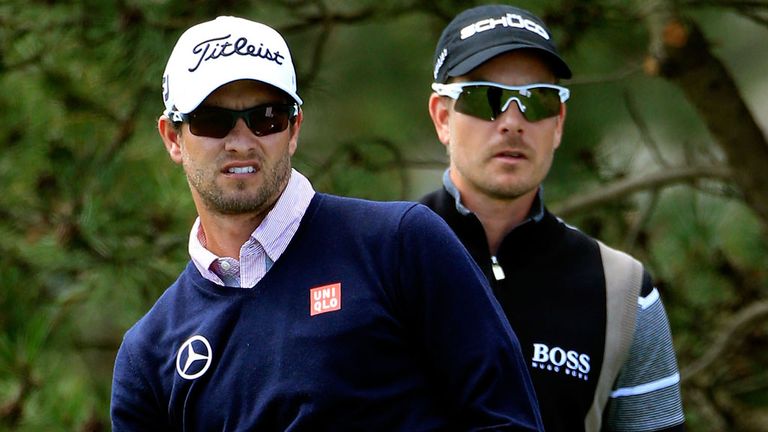 Who will finish in the top five of the 2014 Masters?
When we asked Masters Breakfast presenter Rob Lee that question he stepped up and built a case for a group of players who would all be brilliant winners.
LIVE ON SKY SPORTS
Masters Breakfast - LIVE
9am, Thu, Sky Sports 4
But do you agree with his selections? Here, in no particular order, are his tips...
ADAM SCOTT - Adam was brilliant last year and I think the golfing world felt that he was due a Major championship after finishing high up so many times; he narrowly lost out to Charl Schwartzel at the Masters in 2011, finishing tied second alongside his compatriot Jason Day. He should have won the Open Championship in 2012 when Ernie Els was there to pick up the pieces after he bogeyed the last four holes. There were lots of reasons for Adam to eventually take a step up and claim his first Major victory and it was a fantastic moment last year. That finale was punctuated by tremendous sportsmanship between him and Angel Cabrera. I think Adam has a tremendous chance of retaining that green jacket.
RORY MCILROY - At this point last year I wouldn't have given him a hope of winning but this time, 12 months later, he's got his equipment issues out of the way and I'm hoping he's got his scheduling issues out of the way. With the decks a little bit clearer, he has all the ammo you need to win Major number three and the 65 he shot in the final round of the Houston Open on a tough scoring day means he goes to Augusta with his tail up, ready to do something. This could be a phenomenal week for Rory.
SERGIO GARCIA - His form this year has been very, very good; in fact it has been good for the last four to six months. I don't think he's ever gone into a Masters with as much confidence as he should have now. His odds are heading in the wrong direction for the punters, which means the bookies are starting to fear him. Is it really possible that someone like Sergio won't win a Major in his career? The thing that has held him back in the past has been his putting but he is not a liability on the greens any more and he has a game that at its very best is as good as they come. He's always high up in the greens-in-regulation stats and in the end you grind down the field at the Masters by keeping the disasters to a minimum.
HENRIK STENSON - After his superb finish to the season last year, he's been forgotten a little bit; he's like a mole who has just broken soil again and is coming up for what could be a really good Masters. Like all the good Augusta players, Henrik can hit the ball a long way and strike high mid and short irons into the flags. He quite often drives with his three-wood if the driver is off; if all the stars align for Henrik this week, then who knows? He's a brave player with a big heart - and you need courage when you are coming down the stretch because once you get through Amen Corner those roars ripping through the trees on the way home can put you off.
LIVE ON SKY SPORTS
The Masters
7pm, Thu, Apr 10
Live on Sky Sports 4
PHIL MICKELSON - Phil always seems to play well at Augusta. There are clear signs that the game is coming back to Phil and if he gets in there with a sniff you simply can't rule him out. It's his favourite tournament at his favourite venue - the fact that the Masters is played at Augusta each year and doesn't move around plays into his hands. He knows what it takes to win around here and his left handedness can also be an advantage as the right-to-left shape is easier to control for a leftie than a right-handed player. Cue Weir, Bubba and Phil!!!!
Watch Rob Lee's Masters Preview by clicking here...