Henrik Stenson: Swede has game and temperament for Masters challenge
Last Updated: 02/04/14 3:59pm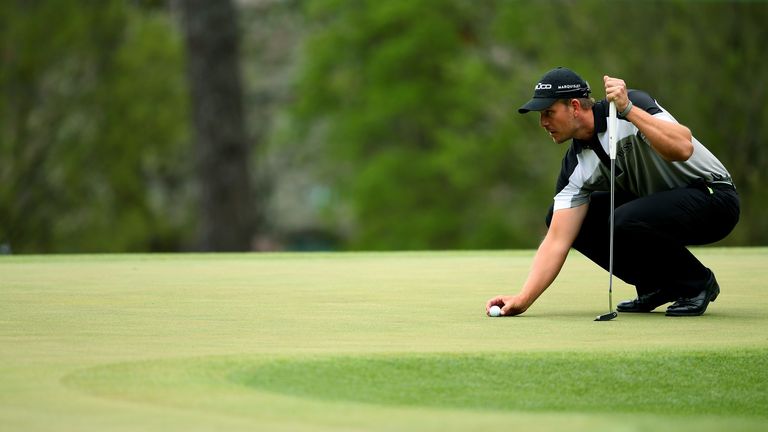 If someone is going to break their Major duck at Augusta, I can't look too far beyond Henrik Stenson.
Henrik has got off to a slow start this year after a stunning mid-to-late 2013 but his fifth-placed finish at Bay Hill in the Arnold Palmer Invitational bodes well and I expect more good form this week in Houston.
Stenson had a remarkable time last season and once you've won the Race to Dubai and the FedEx Cup in the space of a few months, you not only know you can beat the best in a Major, but become desperate to do so.
There is no doubt in my mind that Henrik is Major calibre, especially at Augusta, a course which suits him down to the ground when he is right on his game.
Stenson can hit towering iron shots into pesky pin positions, and has a huge amount of chutzpah, too
Rob Lee
Stenson is long with the three-wood and can use that club instead of a driver, while he is also capable of hitting towering iron shots into pesky pin positions, and has a huge amount of chutzpah, too.
Dustin Johnson could win his first Major at the Masters, though, as he has gone close in the big tournaments in the past - he could arguably have won the US Open, Open Championship and USPGA Championship by now - and bombs the ball miles.
LIVE ON SKY SPORTS
The Masters
7pm, Thu, Apr 10
Live on Sky Sports 4
Johnson's issue, though, is that sometimes he does not always seem fully engaged all the way through his round and while looks can be deceiving, I kind of suspect that might be the case...
Connection
You can't discount Sergio Garcia, either, even though he has had a lot of goes at it and I can't remember him coming down the stretch at Augusta in with a shout of winning - but I have not seen enough from Lee Westwood to pick him as a viable contender.
Augusta is a funny place and if you've done okay there before and have a connection with the place but have no current form you can do special things, just like Angel Cabrera did last year when he nearly pipped Adam Scott to the title.
Lee also knows that his best game is good enough to challenge - something a lot of other players do not - but his form has been poor and he has slipped to No. 38 in the world rankings, so I doubt it will be his week.
I don't think Harris English, Jordan Spieth, and Victor Dubuisson have enough experience to win the Masters, and the same could be said of Thorbjorn Olesen - despite finishing in a tie for sixth spot last term following a closing-round 68 - and the phenomenal putter, Patrick Reed.
Augusta is a place where you need to put the reps in, so that you know not to panic if you are one-over-par after four holes and in a seemingly tricky situation, and, more importantly, where not to hit your ball.
So there's a list of guys who could win their maiden Major on Sunday week, but if you're looking for someone who already has a Major but isn't being particularly hyped up, why not go for golden oldie Freddie Couples?
The 1992 Masters champion is 54 now but if every tournament was held at Augusta, he would win one of them, so why can't it be at the Masters, 22 years after his greatest-ever victory?
He'd certainly be a popular winner.
ROB'S SKY BET TIPS
Stenson, Johnson, Garcia, Keegan Bradley and Rory McIlroy will all be at the Shell Houston Open looking to fine-tune their games ahead of Augusta, and I think Stenson will press on and get a victory to tee him up perfectly for the challenge ahead. Plus, in the Kraft Nabisco Championship, Stacy Lewis is a tough little competitor and worth a mention, but I've got to go for defending champion Inbee Park.
Watch the Shell Houston Open from 8pm, Thursday, Sky Sports 4, and the Kraft Nabisco Championship, the first women's Major of the season, on the same channel and day from 5pm.