Ryder Cup: Sam Torrance and Des Smyth will be good vice-captains
Rob Lee applauds Paul McGinley's Ryder Cup vice-captains - and suggests who his others might be.
Last Updated: 13/03/14 7:20am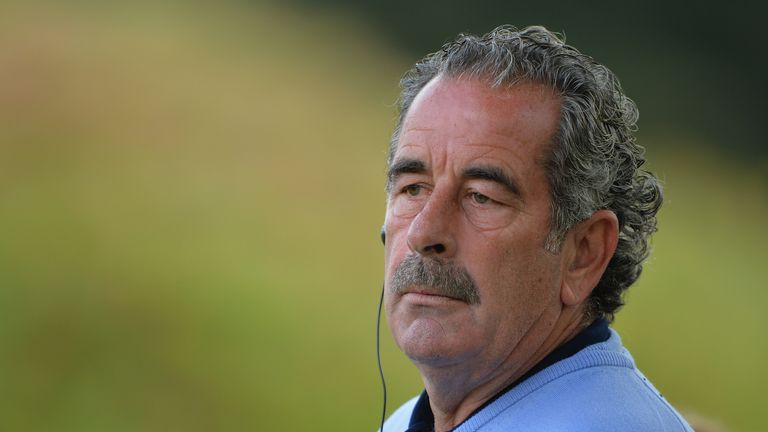 Sam has won or retained the trophy four times as a player - including sinking the winning putt at The Belfry in 1985 - and captained his continent to victory in the 2002 tournament.
Therefore, it is no surprise that Paul has opted for Torrance and I think Sam's experience and knowhow will help keep things on an even keel this autumn.
Sam is a fun character but he is also hard as nails and absolutely hates losing so he will bring extra confidence to the side, as well as being able to share apocryphal stories from Ryder Cups gone by.
McGinley selected Des Smyth as another vice-captain last week and the Irishman, who assisted Ian Woosnam at The K Club in 2006, is another wise pick, in my opinion.
Des is a wise old head but he is a young 61-year-old and still has the boyish enthusiasm that can rub off on people, and with so many different characters on the playing roster that will prove very useful.
Smyth will play the role of good cop, the put-an-arm-around-the-shoulder guy, as he is a good sounding board and someone who you can go to for advice and encouragement.
I have no doubt, though, that Paul will eventually have four vice-captains as the established routine at the Ryder Cup seems to be that there is one guy looking at each match while the captain ducks and weaves, decides who to follow, and prepares for the games ahead.
I think Paul Lawrie would be an excellent option as vice-captain, and I suspect Miguel Angel Jimenez - a unique individual but, at the same time, a very serious competitor - will probably be under consideration, too.
I also reckon Paul might like to return the favour to Jose Maria Olazabal and, two years after he served as one of the Spaniard's right-hand men in Medinah, put Ollie on his staff.
Let's face it, who has been in more Ryder Cup scrapes than Ollie and come through the other side smiling? Not too many.
Meteoric
Patrick Reed could be in the American Ryder Cup team this year and he doesn't lack confidence, as he proved when he said, after winning the WGC-Cadillac Championship, that he was one of the best five players in the world.
I would like to nail him down and get him to say who he thinks he is better than because he was quite vague on that, but his rise over the last eight months has been meteoric.
Reed, who is just 23, has won three PGA Tour titles in that time and he putts unbelievably - he can knock them in from all over the place - but he will now be taken a lot more seriously so we will see if he can cope with that.
I love his brash words and posturing, though, and whether he ends up getting into the world's top five or his statement comes back to haunt him, it is going to be fun watching him go about his business.
Reed beat Jamie Donaldson and Bubba Watson by a stroke at Doral, on a week in which scoring was hard work, and I think the greens were a bit too firm, though perhaps it was too much to expect perfection.
Doral has undergone lots of changes and I think it was always going to be difficult for them all to pay off in one year, so I suspect the greens may have a bit more give in 2015 and not be quite as brutal.
Tweaks will continue but The Blue Monster is certainly better than it was and now provides a test to the players.
ROB'S SKY BET TIPS
Ross Fisher has got to be full of confidence after taking the long road back to success. He won the Tshwane Open in South Africa and, pitching up in another weak field in the Hassan II Golf Trophy in Morocco, I think he can lift another title at 14/1 with Sky Bet.
Over in America, at the Valspar Championship, I would like to pick Luke Donald - but I can't. Luke is getting there and I like the changes to his swing, but he needs to contend a bit more before I tip him to win, so instead I will plump for 16/1 shot Harris English.