Jimmy Walker: Pebble Beach winner can maintain form, says Rob Lee
Pebble Beach winner Jimmy Walker has great control, says Rob Lee, and could extend his purple patch.
Last Updated: 28/02/14 4:55pm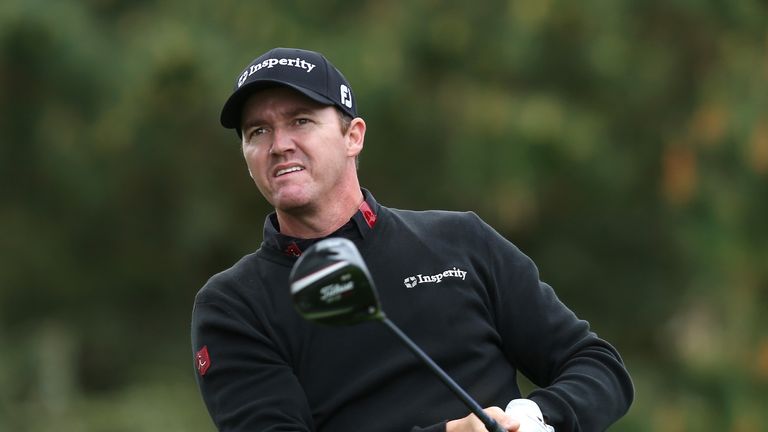 Walker had won twice since October after waiting 188 PGA Tour starts for his initial victory and losing on Sunday would have made him question whether his form was short term.
But the fact he got over the line, despite seeing his six-stroke lead evaporate into an advantage of just one, proved he can win whilst under pressure.
Walker's two other triumphs - The Frys.com Open and the Sony Open in Hawaii - came when he was chasing down another player at the top of the leaderboard, but at Pebble Beach all eyes were on him as the man in front.
Before this purple patch there wasn't a lot wrong with his game and he had accrued a host of top-10 finishes - but he just did not play final rounds very well, so Sunday's result should help him in the sense that he found another way to win.
Jimmy could be a factor on a lot of courses now because he hits the ball a long way and has quite good control with his fade shots, so these amazing few months MAY carry on.
If they do, so will the victories.
Quality
In contrast to Walker, Jordan Spieth burst onto the golfing scene, winning the John Deere Classic, during his debut season as a pro.
The 20-year-old will be under more scrutiny this year as he is now a known entity and people see what he is capable of, but I think he has the quality to deal with that and, for me, is one of the most talented young players in the game.
Matteo Manassero (20) and Hideki Matsuyama (21) have something special, but Spieth - who finished three shots behind Walker at Pebble Beach - continues to push for the Ryder Cup which is amazing for one so young.
Hunter Mahan was also a contender last week but he faded away in the end and there are some frailties in his game: he is not a natural putter and he is not the most adept at pitching and chipping, either.
Mahan has won a couple of World Golf Championship events but if he wants to become a really top player he must strengthen those two facets, in the way that Phil Mickelson has bolstered his long game to complement his great touch around the greens.
Expectation
It was a great weekend, meanwhile, for Tiger Wood's niece Cheyenne, who won her maiden major title on the LPGA Tour, so perhaps she can give Tiger some tips...
Cheyenne's surname will always bring a vast amount of expectation so I just hope she is given her own space and allowed to develop because she has made a terrific start.
Your golfing lineage is never forgotten but I think that can be a help and a hindrance.
Having a father or uncle who plays the game was probably the reason for your way into it and I've got to think that Cheyenne was inspired to play golf because of how successful Tiger was, just like Kevin Stadler was with his dad, Craig.
But you also have the syndrome where the younger family member struggles to emulate the older one's achievements and I cannot think of one example of that happening.
Still, with people like Cheyenne and Charley Hull the women's game is blessed with some great young players, which is not only good for them but also pushes the old guard to raise their level and keep winning tournaments and money.
ROB'S SKY BET TIPS
In the Africa Open I am going to go for Thomas Aiken (10/1 with Sky Bet), who didn't get it done in Johannesburg after leading going into the final round but knows the East London course very well. Plus, at the Northern Trust Open, I will pick Graham DeLaet (22/1), who finished tied for second at the Farmers Insurance and Waste Management Phoenix Opens and will be refreshed after skipping Pebble Beach.
Last week Rob tipped up George Coetzee in the Joburg Open and the South African returned at odds of 10/1. Check out this week's Sky Bet odds.