Pebble Beach Pro-Am: Rob Lee looks at former winner Dustin Johnson
Why does Phil Mickelson love Pebble Beach? How can Dustin Johnson win a Major? Rob Lee assesses...
Last Updated: 05/02/14 4:17pm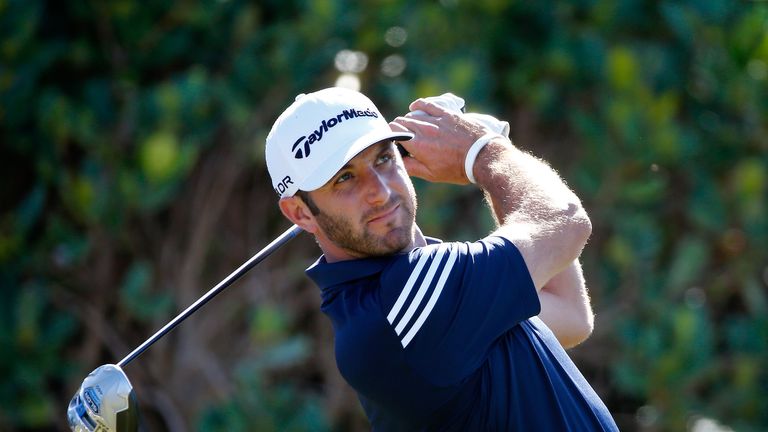 I vividly remember the 1982 US Open Championship when Tom Watson hit his ball into the rough on 17, yet told his caddie, Bruce Edwards, that he would was going to "sink" his chip, which he promptly did en route to pipping Jack Nicklaus to the title.
There was also the 1992 US Open when Colin Montgomerie was edged out by Tom Kite, and the 2000 US Open when Tiger Woods won by a whopping 15 strokes.
Those memories are special and so are the half dozen holes that run along the coastline; most of the course is average but the scenery on those waterside holes is spectacular.
Atmosphere
One man who has relished coming to Pebble Beach in the past is Phil Mickelson, who has won the Pro-Am four times (1998, 2005, 2007, 2012).
I think that is because he enjoys Poa greens - he has had success on them at Torrey Pines, too - and because he really seems to like the atmosphere around the place, in the same way others love Dubai, Switzerland and Ireland.
However, I also reckon he appreciates the Pro-Am element, as playing with his dad, his mate or some bloke from Barclays seems to relax him and allow him to produce his best golf.
Like Phil, Dustin Johnson has previous at Pebble Beach, winning the Pro-Am twice and leading the 2010 US Open after three rounds, before carding an 82 and ending up in eighth place, five shots behind Graeme McDowell.
Johnson has gone close in other Majors, too - most notably at the 2010 USPGA Championship when he grounded his club in a bunker and suffered a two-stroke penalty when he seemed primed to win the event - so his next step is to finally get over the line in one of the big four.
Dustin, who is currently ranked just outside the world's top 10, needs a bit more consistency and application to achieve that, though, as sometimes it looks to me like he switches off a little bit and zones out, something you can't afford to do.
Even if your lapse only lasts five minutes in a Major championship, that can be one errand shot and, ultimately, a triple bogey and a very difficult position to come back from - and Dustin has that in his locker.
I don't think he melts under pressure but he just plays a daft shot every now and again and then scratches his head and thinks: 'What on earth did I do that for?'.
He must cut that out, but he need only look around at his contemporaries, Major winners like Keegan Bradley, Zach Johnson and Jason Dufner, to see what is possible.
Yips
Last week was about Kevin Stadler, though, with the 33-year-old defeating Bubba Watson to win his first title on the PGA Tour, the Waste Management Phoenix Open.
Stadler stumbled over the line as his back nine was not the best but Bubba blew it and Kevin was there to pick up the trophy - though the American commentators were suggesting he will need to enjoy this while he can.
They were saying that Stadler has a severe case of the yips and that when the long putter is abolished in 2016 he might pack the game in, so if that's the case he must rack up the cash pretty quickly.
As for Bubba, I suppose there are promising signs in defeat, though you can never really tell where his game is at and probably couldn't even if he had won four Majors on the spin!
He is all over the place mentally but he is a fascinating man to watch, from the very first hole to the last, and I hope he is back to his best very soon.
ROB'S SKY BET TIPS
Pat Perez is my man at Pebble Beach at odds of 40/1 with Sky Bet. He is in form and has played well at Pebble Beach before, despite suffering an almighty head loss there one year and smashing a three-wood into the turf. Plus, at the Joburg Open, I am tipping 10/1 shot George Coetzee to win for the first time on the European Tour. He's come close a few times and a win on home soil would be extra special.
Check out all the latest odds for the Joburg Open here.