Sky Sports pundit Rob Lee tries to create the prototype golfer
Do Tiger's temperament, Player's putting and Scott's swing form part of Rob Lee's prototype golfer?
Last Updated: 04/12/13 1:02pm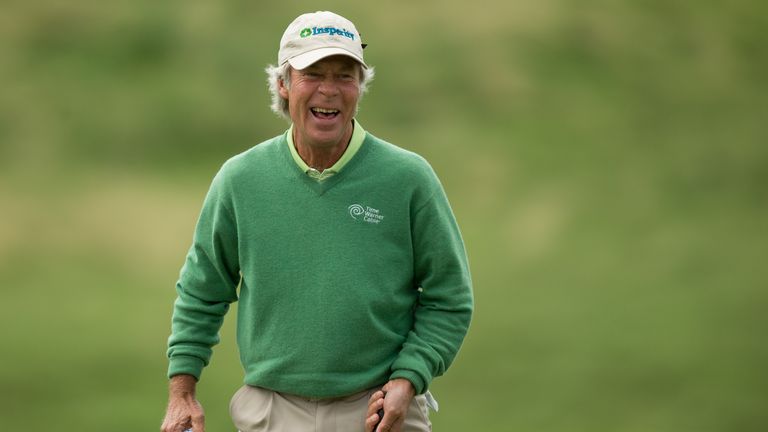 But who is the finest driver of all time, who was the most clinical with an iron in his hand, who had the strongest mentality, and whose putting was a sight to behold?
We asked Sky Sports' resident golf expert Rob Lee to concoct the prototype golfer and after much deliberation, the former European Tour regular has revealed his picks.
Read below to see which past and present players garnered a mention and let us know whether you agree with Rob by filling in the feedback form below...
I'd have to name Greg Norman as the greatest driver of all time.
Ian Woosnam was fantastic, but Greg just shades it for me because he was unbelievable with a wooden-headed driver and I was always in awe of how far and straight he could hit the ball with it.
I look at some players in today's game and think they wouldn't have been able to cope with a wooden-headed driver, but one man who might is Adam Scott, who can be a very special driver indeed when he is at the top of his form and has the most beautiful swing I have ever seen.
In terms of iron play, plenty of people have told me apocryphal stories about Ben Hogan and how tremendous his control of the ball was, but I never saw him play and can only judge players that I have witnessed.
With that said, I have to go for Bernhard Langer, whose iron play in his prime was phenomenal, while when it comes to ability with the wedge, Seve Ballesteros was the master, what with his ability to get out of all sorts of lies and ridiculous positions.
Seve never used anything other than a 56-degree wedge, whereas someone like Phil Mickelson uses a 64-degree wedge, which is the equivalent of Ballesteros chipping with an eight-iron while Phil has a wedge.
There are still some good wedge players around, though, and Phil is one of them; he is like a modern-day Seve in that he doesn't hit the straightest ball and then has to bend shots around tress and play preposterous flop shots as a remedy.
Unforgiving
I have also watched a lot of fantastic putters over the years, but selecting the best was a toss-up between two-time Masters winner Ben Crenshaw and 14-time Major winner Tiger Woods.
Crenshaw used the old-fashioned blade putter and only the good putters could use one of those properly - they were completely unforgiving as you either nailed your stroke or your ball went off sideways - but I have to pick Tiger for the Majors he has won.
In terms of temperament, though, I have to overlook Tiger and go for Jack Nicklaus, who competed in so many Majors, recording 18 wins, 19 second-paces and nine third-places, usually after letting others fall away and then striking.
Nicklaus was so measured and adaptable and was able to win not only Open Championships but on parkland layouts as well, but the most memorable of his Major wins has to be his last, aged 46, at Augusta, with an oversized MacGregor putter which looked like a brick on a stick.
There have been some fantastic golfing personalities over the years as well - including Miguel Angel Jimenez and Lee Trevino - but the two that stick out for me are South African Simon Hobday and former European Ryder Cup captain Mark James.
Hobday, someone who will be known to golfing aficionados, was barking mad and used to make me laugh, but James was really fun to play with, too, as he was so deadpan with his reactions and the things he used to say.
Taking all the disciplines I've mentioned into account, you'd have to say that Woods is one of the most complete players around - though I'd argue that he is not a complete player because his driving is too erratic and he sometimes has to smack three-woods down the fairway.
What Tiger is, though, is the most complete winner in the modern era - even if he is yet to claim a Major coming from behind - but I think Rory McIlroy is well placed to assume that mantle and dominate the game.
No-one else in history has won their first two Majors by eight-strokes each - and if Rory applies himself properly, he can achieve anything.