Rob Lee blogs on Ryder Cup and some of 2013's unheralded stars
European nations are embracing the Ryder Cup, and Rob Lee says that's great news for the event.
Last Updated: 27/11/13 4:18pm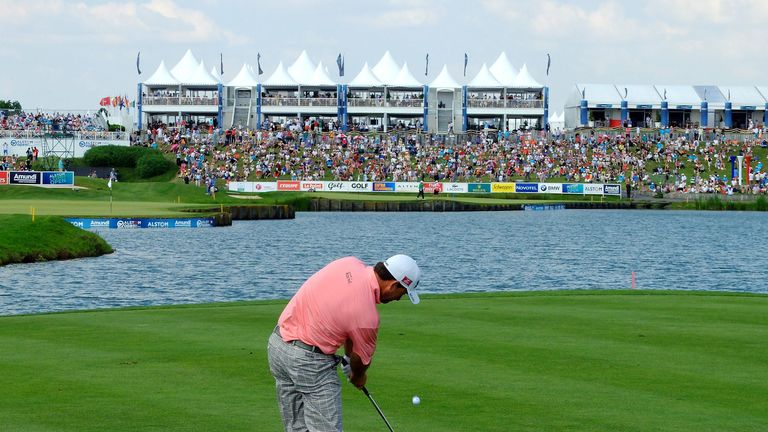 The 2018 Ryder Cup will be held in France, after the nation edged out Spain, Netherlands, Portugal and Germany, which shows you that countries outside of Britain are eager to get involved in the tournament.
I don't think the competition should ever be staged outside of American or European territories but I think that it is important to spread the Ryder Cup message throughout Europe, with so many players from the continent now key parts of the team.
France deserves its shot in 2018 - when the event will take place at Le Golf National in Paris - because golf has been played there for years and the authorities have invested plenty of money into the Ryder Cup.
You'd like to think, too, that with the emergence of Victor Dubuisson and a few other talented guys around that there could be some French involvement in five years' time, but I don't think it's essential that home players are there.
During the Ryder Cup everyone bands together, waves the blue flag with the yellow stars, and tries to beat the Americans, so it's not a deal-breaker that a venue is selected on the basis that some local golfers will be in the team.
That's why I'd have no issue with the Ryder Cup going to Turkey - eventually.
Self-belief
I have talked a lot about the likes of Henrik Stenson, Adam Scott and Justin Rose in the column this year - and rightfully so - but a couple of players that have gone under the radar a little bit have impressed me, too.
Dubuisson - particularly at the end of the season, when he won in Turkey and played really well at the DP World Tour Championship - has come of age, and certainly has enough self-belief to keep on doing well.
I also liked the way Ian Poulter recovered this autumn after a so-so season, and while Matteo Manassero has been a little bit inconsistent since he won the BMW PGA Championship in May, he remains an unbelievable talent having won four times on the European Tour by the age of 20.
Over in the States, meanwhile, Jordan Spieth, has been brilliant.
The 2013 PGA Tour Rookie of the Year quit college and everyone said: 'I don't know about this', but two months later they were saying: Good decision, Jordan, well done', once he'd proved how special he was.
I don't think Spieth, who is just 20 and a really exciting player to watch, is a flash in the pan and I believe he could form a good partnership with Tiger Woods in the Ryder Cup at Glenegales, should he make the US team.
Spieth's former Walker Cup buddy Harris English has won twice on the PGA Tour this year - the FedEx St Jude Classic and the recent OHL Classic at Mayakoba - and when a guy does that in his debut season it gives you a great indication that he can play.
I reckon he is of a very similar calibre to Spieth - he has a great action and knows how to get over the line - and if you're backing players to make the Ryder Cup, I'd get on English because I'm sure he'll be there or thereabouts.
Strong
Jason Day's victory in the World Cup of Golf in Melbourne was very poignant after he lost at least eight members of his family in the Philippines typhoon tragedy and shows how strong the young man is mentally.
It's amazing to think that is only his second win because he has gone so close in Majors before, but he played brilliantly on home soil and if he sped his game up a little bit I think he would be an even better player.
Day won the combined event with Adam Scott - whose major haul will only be added to if he sticks with caddie Steve Williams - and you could see both Aussies were chuffed to bits to get their country scribed onto the trophy, which is always nice to see.
Day, Scott and Rory McIlroy will be playing in a star-filled Emirates Australian Open this week and while I will be intrigued to see what Rory has got in the tank, it's hard to look past Scott, (a 5/2 shot with Sky Bet), who has the best swing in world golf.
In the Alfred Dunhill Championship in South Africa, meanwhile, there are plenty of home favourites in the mix, including Charl Schwartzel and Hennie Otto, but those two buckled last time out and so, once again, I will go for Spain's Alejandro Canizares (30/1).
For all the latest golf betting markets, visist Sky Bet now.